Virulent Newcastle Disease
Virulent Newcastle Disease
---
Virulent Newcastle Disease Alert
Attention: Residents in Areas of Active vND Virus Spread
Message from State Veterinarian, Dr. Annette Jones
Due to progression and duration of a virulent Newcastle Disease (vND) outbreak in parts of Southern California, the State Veterinarian has ordered mandatory euthanasia of poultry* in some neighborhoods within or near:
Compton and Whittier (Los Angeles County)
Eastvale, Menifee, Mira Loma/Jurupa Valley, Norco, Nuevo, Perris, and Riverside City (Riverside County)
Chino, Fontana, Hesperia, Highland, Muscoy, and Ontario (San Bernardino County)
Unfortunately, even individual birds and flocks that previously tested negative, but now fall within a designated mandatory euthanasia area, must be euthanized. USDA/CDFA staff will contact affected bird owners with orders specific to their property.
While this action is difficult for all involved, it MUST be done to eradicate VND. Otherwise, the disease will continue to spread and kill additional flocks.
For more information please refer to: Virulent Newcastle Disease FAQs or call the Sick Bird Hotline at 866-922-2473.
---
* Poultry species are defined as: chickens, turkeys, turkins, pheasants, peafowl, guinea fowl, quail, ducks, geese, swans, gallinules, doves, pigeons, grouse, partridges, francolin, tinamou, ostriches, and other ratites (including but not limited to the rhea, emu, and cassowary), and hatching or embryonated eggs.
Maps
VND Regional Quarantine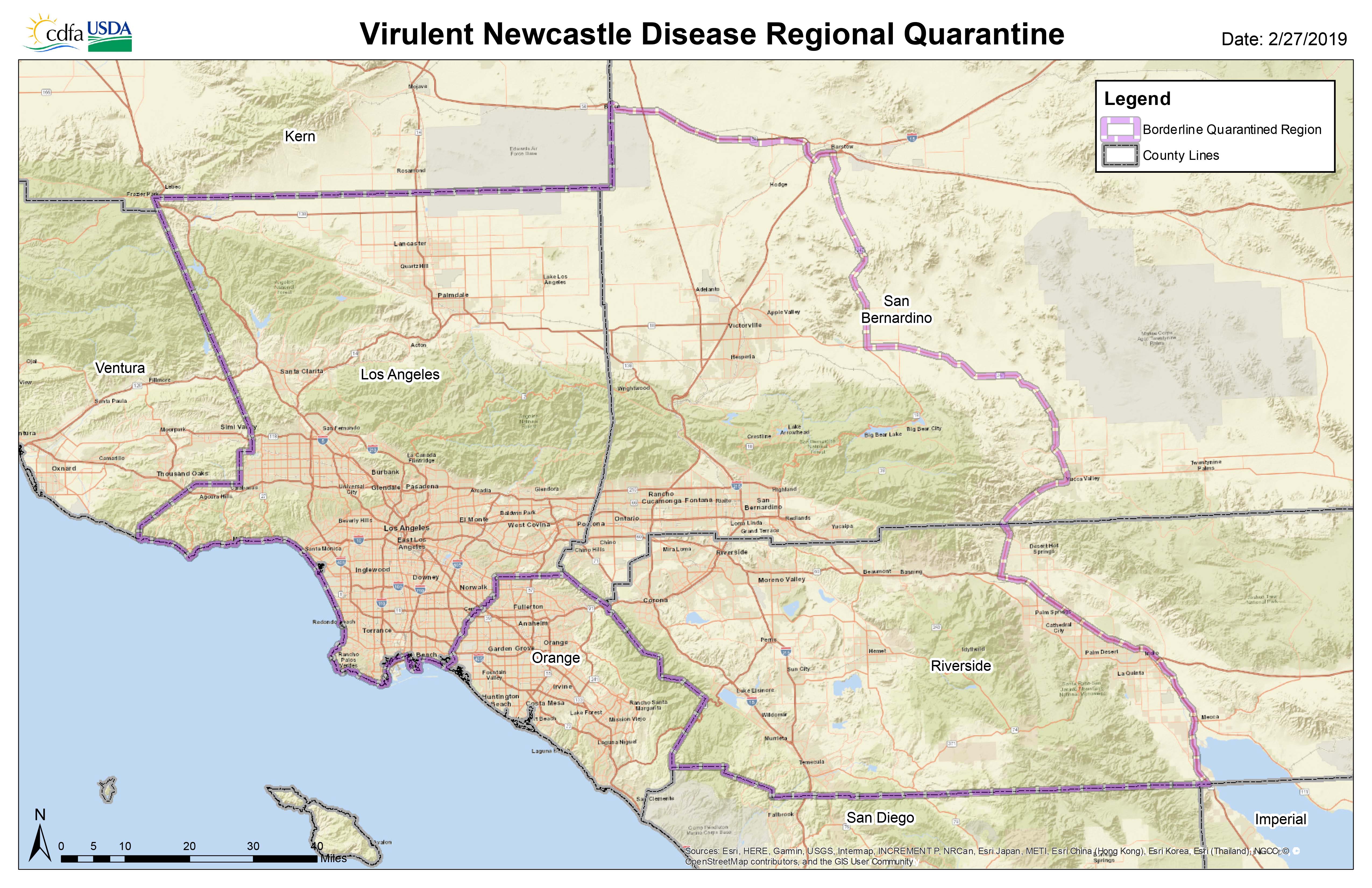 ---
Secure Food Supply (SFS) Plans
Commercial producers are encouraged to enforce biosecurity plans and develop Secure Food Supply (SFS) Plans, which are designed to provide business continuity in the face of a foreign animal disease outbreak.
---
Virulent Newcastle Disease Public Service Announcement (PSA)
Virulent Newcastle Disease (VND)
Virulent Newcastle disease (VND), formerly known as Exotic Newcastle Disease, is a serious, highly contagious viral disease that can affect poultry and other birds. In rare cases, humans that have exposure to infected birds may get eye inflammation or mild fever-like symptoms. These signs generally resolve without treatment, however, medical care should be sought if symptoms persist. Infection is easily prevented by using standard personal protective equipment. Virulent Newcastle disease is not a food safety concern. No human cases of Newcastle disease have ever occurred from eating poultry products. Properly cooked poultry products are safe to eat.
The virus is found in respiratory discharges and feces and may cause high rates of sickness and death in susceptible birds. For poultry, chickens are most susceptible and ducks and geese are the least susceptible. Mortality rates for Psittacine birds (parrots) can range from zero up to 75%. Certain parrots, especially Amazon parrots, can shed VND virus intermittently in excess of one year. Other birds may be infected, but may not show any symptoms and may still be able to spread the disease. Once VND is introduced into domestic avian populations, subsequent spread is normally caused by domestic bird-to-bird contact or through contact with contaminated people, feed or equipment. Other types of Newcastle disease known as lentogenic and mesogenic are less virulent and may cause mild symptoms or none at all.
There is no effective cure for virulent Newcastle Disease. It is important that all commercial and non-commercial poultry owners maintain effective barriers to mitigate the risk of VND.
Historical Virulent Newcastle Disease Incidents
February 4, 2019: Two additional ranches with egg laying hens have been confirmed positive for vND. The first is a small ranch in San Bernardino County that was confirmed on January 22, 2019. The hens have been euthanized. The second is a larger commercial facility in Riverside County that was confirmed positive on February 1, 2019.
The 2002-03 END outbreak, originally confirmed in backyard poultry in Southern California, spread to commercial poultry operations in California and backyard poultry in Arizona, Nevada and Texas. The Governor of California declared a State of Emergency, the Secretary of the United States Department of Agriculture (USDA) declared an Extraordinary Emergency, and local emergencies were declared in San Diego, Riverside, Los Angeles, and San Bernardino Counties. A USDA and the California Department of Food and Agriculture (CDFA) Task Force was formed that involved over 7,000 individuals rotating in and out over the course of the outbreak. Trade restrictions resulting from the disease had negative impacts on California and U.S. poultry and egg producers. The outbreak, from discovery to eradication, lasted eleven months. The outbreak response led to the depopulation of 3.16 million birds at a cost of $161 million.
Outbreaks of END severely affect the poultry industry. In 1971, a major outbreak occurred in commercial poultry flocks in Southern California. In all, 1,341 infected flocks were identified and almost 12 million birds were destroyed. The eradication program cost taxpayers $56 million, severely disrupted the operations of many producers and increased the prices of poultry and poultry products to consumers.
More information on Virulent Newcastle Disease
Industry Information Links
Organization for Animal Health (OIE) Information