SWINE HEALTH RESOURCES & INFORMATION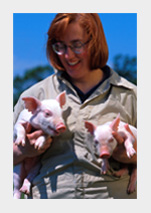 Swine Health Information
and Resources
African swine fever (ASF) is a highly contagious and often fatal hemorrhagic viral disease of domestic pigs and wild pigs. More...
---
The swine industry is invaluable to California's agriculture. Our branch aids in the management of swine diseases that cannot be managed by a single producer and their veterinarian. If you raise swine, having a private practitioner to aid in disease diagnosis is important because of the highly contagious nature of some diseases to swine, other species of livestock and/or people. The risks of disease introduction are greater than ever, because of expanding international trade and travel. A highly transmissible foreign animal disease can spread rapidly if undetected or detected but not reported. Some signs to look for are blisters on hooves and on the snout, unusual or unexplained illness, hemorrhagic septicemias, unusual skin lesions ranging from cyanotic patches on the ears and abdomen to raised, scabby lesions mainly on the legs, high morbidity or mortality. If you suspect you are dealing with such a disease, contact your district office.
The demand for swine in California is increasing greatly. Expanding ethnic populations have created new demands on the market place. Some marketing may occur through non-traditional avenues, which are not easily monitored. The Animal Health Branch recognizes this potential risk and approaches issues accordingly when dealing with diseases within the various segments of the swine industry. CDFA continues to develop programs and policies that are adjustable to the continuing changes in the industry, while at the same time protecting the well-being of swine and other livestock in California.
With an extensive wild/feral pig hybrid swine population in the state, California recognizes that swine diseases such as Pseudorabies and Brucellosis, which have been eradicated from commercial herds, can be reintroduced to domestic swine through exposure to feral swine. If you suspect feral swine have intermingled with a commercial herd, herds with outdoor access or transitional swine, report it to your district office.
Since animal diseases may affect swine populations in any state, there are Federal-State Cooperative Programs (FSC) that address these diseases. Swine Pseudorabies and Brucellosis, Classical Swine Fever and the Swine Health Protection Act are all examples of FSC programs.
Biosecurity Resources:
Foreign Animal Disease Resources:
Senecavirus A, (SVA), belongs to the same family as foot and mouth disease (FMD) "Picornaviridae". It has been identified in U.S. swine since the 1980s and is occasionally implicated in sporadic outbreaks of idiopathic vesicular disease. SVA has been frequently associated with clinical signs and gross lesions that are indistinguishable from vesicular foreign animal diseases (FADs), including FMD, vesicular stomatitis (VS) and swine vesicular disease (SVD); making rapid response and differential diagnosis imperative. Disease has been also reported in Canada, Australia, Italy, New Zealand and, most recently, in Brazil.

In the last few years, clinical cases of SVA in swine have significantly increased, drawing industry and regulatory attention to the virus. All cases of vesicular disease must be reported to CDFA/USDA to ensure rapid detection of catastrophic diseases such as FMD. SVA was added to the 2019 CDFA "List of Reportable Conditions for Animals and Animal Products" in the monitoring conditions column; trade and commerce are not restricted and the virus has little to no impact on swine production.

As vesicular lesions can be caused by several diseases, including FMD, CDFA/Animal Health Branch and USDA Veterinary Services (VS) foreign animal disease diagnosticians respond to these cases immediately by conducting a FAD investigation and sending samples to the CAHFS Laboratory to test for FADs and SVA the same day. This disease has not been diagnosed in California before October 2015, but since then has initiated numerous swine FAD investigations in the state and nationally.

Cases presenting similarly to FMD, VS or SVD must be treated as such until FADs can be ruled out necessitating the following activities:

Herd Veterinarian

Intensive observation of animals for gross lesions and clinical signs
Upon encountering a suspect case, the veterinarian should:

Stay at the site and enhance biosecurity
Report to CDFA/USDA and follow instructions

Producer

Do not move animals which are ill, exhibiting clinical signs or active lesions
If possible, segregate/isolate affected animals on the site
Document movements leading up to and immediately surrounding the onset of clinical signs (as the information may be useful on diseases analysis or for a FAD investigation)
Cooperate with sample collection and submission as part of a FAD investigation under the direction of CDFA/USDA

Senecavirus A, Swine Health Information Center (SHIC) Fact Sheet

African swine fever (ASF) is a highly contagious and often fatal hemorrhagic viral disease of domestic pigs and wild pigs. For more information see our African Swine Fever (ASF) page.

It is important to recognize that swine flu is not a threat to the food supply. According to the Center for Disease Control, influenza viruses have not been shown to be transmissible to people through eating properly handled and prepared pork (pig meat) or other products derived from pigs.

Swine influenza virus (SIV) in pigs has been present in the United States over 80 years. Classical swine influenza is a respiratory disease of swine caused by a type A influenza virus. Influenza viruses that commonly circulate in swine are called "swine influenza viruses" or "swine flu viruses." Like human influenza viruses, there are different subtypes and strains of swine influenza viruses. For more information see our Swine Influenza page.

Biosecurity involves rules and guidelines designed to maintain the healthiest swine herd possible. It does this through procedures that limit the chance of exposing the herd to disease and to contain any disease that does occur in a herd. Because most diseases are introduced into herds through transportation and new animal introduction, all biosecurity programs must take these areas into serious consideration. The National Pork Board offers information that helps producers formulate a plan to protect their swine herds. Information regarding biosecurity and control is also available on line from the American Association of Swine Veterinarians by accessing their publications link.

Classical swine fever (CSF), also known as hog cholera, is a highly contagious viral disease of swine. CSF was eradicated from the United States in 1978 after a 16-year effort by the industry and State and Federal governments. Today, only 16 other countries are free of CSF. While CSF does not cause foodborne illness in people, economic losses to pork producers would be severe if the disease were to become established again in this country.

African swine fever (ASF) is a highly contagious and often fatal hemorrhagic viral disease of domestic pigs and wild pigs. The disease is transmitted by direct contact with infected animals, indirect contact on fomites, by tick vectors and by food waste containing infected meat. Symptoms are high fever, shock and hemorrhaging lesions. The disease kills pigs within a week of infection and the level of mortality varies with the virulence of the isolate. No treatment or vaccine exist. It does not pose a risk to public health. ASF has never been reported in the United States, Canada, Australia, or New Zealand.

African swine fever was first described in the 1920s in Kenya and is a serious problem in several African countries. The disease appeared in the 1950s in Europe's Iberian Peninsula. It was found in the late 1970s and early 1980s in Haiti, the Dominican Republic, Cuba and Brazil. Spain and Portugal eradicated this disease in the mid-1900's. Later on in 2007, it appeared in Georgia and the Caucasus region and from there spread to Russia and Ukraine. Concerns remain high that the disease could spread across the main pig-producing areas of west and north Poland, or north-west Europe including Germany, Denmark, Netherlands and northern France. The most recent outbreaks in China and Europe, combined with increased global movement of animals and people, have led Federal, State, and industry stakeholders to discuss enhancing swine surveillance activities to include ASF. Surveillance for ASF is currently being conducted through passive reporting of suspicious cases to CDFA and USDA animal health offices.

Contaminated meat that is present in untreated food waste can cause diseases that may be spread to swine and other livestock. Illegally imported animal products, such as meats and sausages, could cause outbreaks of ASF and other FADs such as FMD and CSF. When traveling, do not bring back animal products from other countries, do not feed raw or improperly cooked meat waste products to swine. Practice standard biosecurity measures, such as cleaning and disinfecting clothing, equipment, and vehicles entering and leaving the farm; never allow human food brought onsite to enter animal areas, international food products pose an increased risk and should not be allowed on the farm, maintain an effective rodent and tick control program, and fence property to prevent wild pigs from coming in contact with domestic pigs. The economic consequences of a foreign animal disease incursion into the United States include impacts on exports and the high cost of disease control and eradication. The continuing increase in the number of cases of ASF that are being reported in the north-eastern European states and most recently in China is of rising concern for pork producers.

African swine fever and other emergency conditions in livestock must be reported to CDFA or USDA immediately upon diagnosis or suspicion of the disease. The list of reportable conditions for animals and animals products is available online from: http://www.cdfa.ca.gov/ahfss/Animal_Health/pdfs/CA_Reportable_Disease_List_Poster.pdf

Visual and diagnostic surveillance is essential for control and eradication of a foreign animal disease such as ASF. (English, Spanish)

Foot and Mouth Disease (FMD) is a debilitating disease affecting all cloven–hoofed animals, including cattle, pigs, and sheep. Clinical signs commonly seen in cattle are drooling, lip smacking, and lameness, caused by blisters (vesicles) on the tongue, dental pad and feet. Sheep and pigs have similar, but often less pronounced, clinical signs. For more information see our Foot and Mouth Disease web page.

The outbreak of Nipah disease in Malaysia, which has caused human fatalities, has been attributed to a viral infection in pigs. The disease in pigs is generally associated with low mortality but high morbidity. Clinical signs in young pigs include mild to severe coughing, with varying reports of mortality and morbidity.
Nipah Virus Fact Sheet Swine Health Information Center

Porcine circovirus disease (PCVD) is the term for a viral disease of pigs that has recently emerged as a major problem in the US. The disease is caused by Porcine Circovirus Type 2 (PCV2). Not all pigs will develop the clinical signs of PCVD. However, most swine are infected with PCV2.

Pseudorabies is a disease caused by a virus, which primarily affects swine but is occasionally transmitted from pigs to cattle, sheep, goats, dogs, cats, and wild animals. It is also known as Aujeszky's disease and "mad itch". Pseudorabies fact sheet

The Pseudorabies Eradication Program began in 1989 and California became stage V free of the program in February 2001. The State-Federal-Industry cooperative program effectively eliminated the virus from commercial swine in 2004 and all States commercial swine are PRV Free. This program has moved to post-eradication surveillance as outlined in the PRV Surveillance Plan.

PRV still exists in feral swine. Sporadic cases are occasionally identified in swine herds with exposure to feral swine.

Surveillance

Targeted surveillance is utilized for PRV because it increases the odds of rapidly finding disease and helps protect and ensure the commercial swine industry is disease free. The surveillance plan has three goals:

Rapid detection
Demonstration of freedom
Monitoring risk of PRV introduction

To support these goals, samples are collected from diagnostic laboratories, premises with feral swine exposure, premises with increased risk of exposure to feral swine, markets and buying stations, and various slaughter establishments including sow-boar and market swine.

For more information:

Brucellosis in pigs is an infectious and contagious disease caused by the bacteria, Brucella suis. The disease spreads in semen during breeding and by ingesting, inhaling, or eye contact with bacteria in milk, reproductive fluids, placenta, aborted fetuses and urine. The disease primarily occurs in adult pigs which show non-specific infertility, abortion or lack of sexual drive. Boars can show signs of orchitis, lameness, arthritis, abscesses and posterior paralysis. There is no treatment for the disease and no effective vaccine. For more information see our Swine Brucellosis web page.

Vesicular stomatitis (VS) is a virus–caused disease that primarily affects cattle, horses, and swine. The disease can also affect many other species of animals and has occurred in sheep, goats, wildlife, and occasionally humans. The major significance of the disease is its nearly identical appearance to the truly devastating foot and mouth disease, which was eradicated from the United States nearly seven decades ago. For more information visit our Vesicular Stomatitis Web Page.

Many foreign animal diseases, including classical swine fever and foot and mouth disease, may be spread by feeding raw garbage derived from meat products to swine. The swine garbage feeding regulations are the direct result of the past occurrence of swine vesicular exanthema and its spread by garbage feeding. The regulations were written in 1954, following 20 years of unsuccessful attempts to eradicate the disease. For more information see our Swine Garbage Feeding web page.

VESV is known for causing a highly infectious, vesicular disease in febrile swine and is clinically indistinguishable from foot-and-mouth disease, swine vesicular disease, and vesicular stomatitis disease. VESV originated in a swine herd in California in 1932 and spread throughout the United States in the early 1950s. Efforts to eradicate VESV were successful and it was declared "exotic" in 1959. VESV in swine has not been documented in any other regions of the world. In 1972, San Miguel sea lion virus (SMSV) was isolated from California sea lions with vesicular and reproductive disease. SMSV is biophysically indistinguishable from VESV and is capable of producing vesicular disease in swine. In retrospect, VESV is believed to have originated from SMSV. SMSV serotypes continue to circulate in wild and domesticated animals along the California Pacific coastline.

VESV is a highly infectious disease but seldom results in death. It can be introduced in swine herds through untreated garbage and fish or by direct contact with vesicle fluid, vesicle coverings, or oral and nasal secretions from infected animals. Vesicles form within 24 hours post-infection and rupture 24-48 hours after formation. Ruptured vesicles ulcerate and begin healing approximately ten days post-infection. Infected pigs become febrile coincident with vesicle formation and return to normal after most vesicles have ruptured. Reproductive failure has also been associated with VESV. Diagnosis is confirmed using serology, electron microscopy, or reverse transcriptase polymerase chain reaction (RT-PCR).

To prevent infection with VESV, all garbage and fish fed to swine must be cooked to 100°C for 30 minutes. Standard biosecurity practices should also be in place.

Vesicular Exanthema of Swine Virus Fact Sheet Swine Health Information Center .
Contact Us

CDFA Animal Health and Food Safety Services,
Animal Health Branch

1220 N Street

Sacramento, California 95814

Phone:

916-900-5002

Fax: 916-900-5333

Email:

ahbfeedback@cdfa.ca.gov

Our offices are open 8:00 AM to

5:00 PM Pacific Time.