Sedona
Detector Dog Sedona
and Dog Handler Lauren Eckert
Los Angeles County
---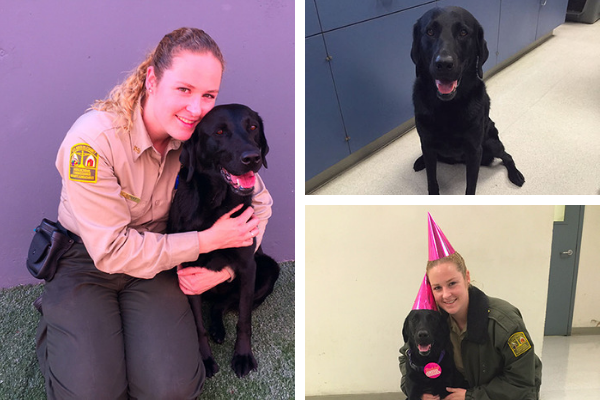 ---
Not just any dog can become a California Agriculture Detector Dog. It takes a special set of attributes before a dog is even considered for selection and training. All of our dogs come from animal shelters and rescue groups but they have all demonstrated that they have what it takes: all are physically healthy, friendly, have low anxiety levels and a high food drive (for training motivation).
The dogs and their handlers must complete an intensive 10-week training course at the USDA's National Detector Dog Training Center in Newnan, GA, as well as an extended additional training regimen after arrival, prior to beginning actual inspections in California.
The large numbers of interceptions made by the California Dog Teams over an extended period of time have demonstrated that unmarked parcels present an extremely active high-risk pathway for harmful pests to enter California.
Sedona came from an animal shelter in Butts County, GA. She is one of three agriculture detector dogs currently assigned to Los Angeles County. The dogs and their handlers all work in parcel facilities, such as USPS, FedEx, and UPS, looking for unmarked and possibly infested agriculture items being sent through the mails.
Sedona is particularly suited for the work as she is very determined, highly motivated, and yet very friendly to people she encounters throughout the day. Sedona is a very high-energy, fast-moving dog who loves what she does and is always seen with a wagging tail and a bounce in her step.
Sedona was born around March, 2012. Her favorite treats are anything edible and her favorite toys include her squeaky duck, her tennis ball, and her Nylabone Dura Chews.