Hendrix
Detector Dog Hendrix
and Dog Handler Marithza Hernandez
Santa Clara County
---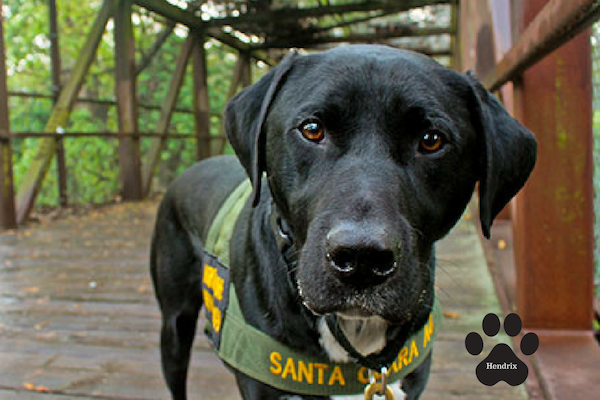 ---
Santa Clara County Agriculture Detector Dog, Hendrix, was born on April 23, 2013 in Maryland. He is a black lab mix, surrendered as a puppy by his owners and rescued from the Humane Society shelter by the United States Department of Agriculture (USDA) to be trained as a detector dog.
Hendrix was originally trained to detect Nutria, which are an invasive water rodent that undermine levies. However, the program discovered that Hendrix does not like to swim! Sniffing out water rodents requires the dogs to do a lot of swimming, so Hendrix didn't qualify for that program. But, that didn't stop Hendrix's career because he had other good traits: food drive, intelligence and high energy, making him an excellent candidate for the agriculture detector dog program. He was transferred to the USDA National Detector Dog Training Center (NDDTC) in Newnan, Georgia to start his new training. While in school, Hendrix learned to alert on five initial fruits: apple, guava, citrus, mango and stone fruit. Since then, Hendrix has increased his "nose pallet". He gets rewards for alerting on any kind of an "agriculture smell" so he has now intercepted flowers, trees, plants, fruit, soil, snakes and insects found in the pet trade, and lemons illegally being shipped through a parcel carrier.
When Hendrix is not working, he likes to spend time with his handler chasing tennis balls at the dog park and playing with his favorite neighbor, Cosmo (Alameda County's agriculture canine).