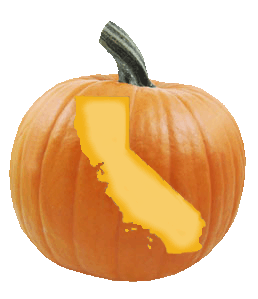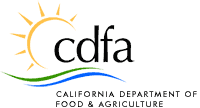 Kids Connect
with
California AG
~ Pumpkins galore!
~ Test your knowledge about
pumpkins.
~ Learn more about plants and bugs in California.
Explore information about California's Agriculture & CDFA
CDFA Resources
News Release: California Agriculture Receives More Than $18 Million in Federal Specialty Crop Grant Funds... (more)

California Grown Pumpkins










In 2013 the United States grew more than 705 million pounds of winter squashes (those with a hard rind that can be stored, such as pumpkin, acorn and butternut squashes; and gourds). It took 40,800 cultivated acres to produce this much winter squash or the equivalent of 30,855 football fields! Winter squash harvest season begins in mid-September and can last through mid-spring. February is the best time to harvest certain types of winter squash. For pumpkins however, October is the traditional month of harvest. After Florida, California is the top producer of winter squash, and after Illinois, the top producer of pumpkins. Pumpkins are native to North America.
Since it's the season, let's powwow about pumpkins. They are a cultivar (variety) of squash plant, usually Cucurbita pepo or C. maxima. All squashes contain seeds, so they are defined as a fruit. Pumpkins usually weigh between 10 to 20 pounds, although a world record pumpkin grown in California weighed in at over one ton! Pumpkins are about 90% water. Pumpkins are a good source of anti-oxidant vitamins, including vitamins A, C, and E, as well as copper, calcium and phosphorus. They are a low-calorie food even though they can be the main ingredient in calorie-rich desserts like pumpkin pies and muffins.
Pumpkins are often used as decorations during Halloween festivities in October and as a main ingredient in holiday meals during November and December. The term 'jack-o'-lantern' refers to a carved pumpkin lit by a candle, but the first jack-o'-lanterns were actually carved from turnips and potatoes. The story of the first jack-o'-lanterns comes from an Irish myth. When the English colonists first came to America, the native Americans introduced them to pumpkins as a food source. One of the most well known holiday desserts made with pumpkins is the pumpkin pie. The most familiar kind of pumpkin pie actually originated in the 1650's in France. A pumpkin dessert close to what originated in France was created in the United States later in 1796. That led to the pumpkin pie that many of us now enjoy during the holiday season.
The California Department of Food and Agriculture's (CDFA) Plant Health Division helps to keep California's pumpkin crop safe from invasive diseases and insects. A great place to buy pumpkins is your local Certified Farmer's Market. CDFA's Certified Farmers Market Program ensures that vendors sell pumpkins they have grown and of the best quality, from which you can choose. And if you want to try a different type of winter squash, the farmers' markets have those too. Another popular place to pick out a pumpkin is of course a local pumpkin patch.
California continues to produce pumpkins despite drought conditions. During the drought, many pumpkin growers, just like other produce growers in California, are turning to more efficient methods of watering and/or rotating crops to allow them to continue to produce a profitable, seasonal squash like pumpkins.
Whether you want to carve them or eat them, or both, remember to try a California-grown pumpkin.
Kids CDFA TV
A helpful video with a great idea about snack boxes hosted by USDA's ChooseMyPlate.com...(0:55)
Saving Water
For Students