Federal/State Agencies & Assistance Programs
In disaster situations such as these, support programs exist to help minimize the negative long-term business impacts that result from the lack of water. These programs demonstrate that California farmers and ranchers are an essential part of our community and economy. These programs are offered by the following federal and state agencies listed below:
---
The USDA's Farm Service Agency (FSA) assists California's farmers and ranchers through farm loans, commodity price support, disaster relief, and conservation practices.
The USDA's Natural Resources Conservation Service (NRCS) works with landowners through conservation planning and assistance that results in productive lands and healthy ecosystems.
Environmental Quality Incentives Program (EQIP)– EQIP provides financial and technical assistance to agricultural producers in order to address natural resource concerns and deliver environmental benefits such as improved water and air quality, conserved ground and surface water, reduced soil erosion and sedimentation or improved or created wildlife habitat. Eligible program participants receive financial and technical assistance to implement conservation practices, or activities like conservation planning, that address natural resource concerns on their land. Payments are made to participants after conservation practices and activities identified in an EQIP plan of operations are implemented. Contracts can last up to ten years in duration. Agricultural producers and owners of non-industrial private forestland and Tribes are eligible to apply for EQIP. Eligible land includes cropland, rangeland, pastureland, non-industrial private forestland and other farm or ranch lands. Socially disadvantaged, beginning and limited resource farmers, Indian tribes and veterans are eligible for an increased payment rate and may receive advance payment of up to 50 percent to purchase materials and services needed to implement conservation practices included in their EQIP contract. Applications are currently being accepted for 2015.

Catastrophic Fire Recovery Initiative: USDA's Natural Resources Conservation Service (NRCS) has funds available through its Catastrophic Fire Recovery Initiative to address the immediate impacts of fire on natural resources and land that has suffered impacts from recent California wildfires. This assistance is available to agricultural operators or private non-industrial forest owners and applications will be accepted and considered for possible funding on a continuing basis. The purpose of the Catastrophic Fire Recovery Initiative is to provide quick resource protection in areas burned by catastrophic fires in the past 18 months. Priority concerns include immediate soil erosion protection, minimizing encroachment by invasive plants, protecting water quality, protecting fish and wildlife habitat, bringing back forests, and restoring livestock infrastructure necessary for grazing management. Financial assistance for conservation under this initiative is being made available through the Environmental Quality Incentives Program (EQIP). Applications for this initiative can be submitted to your local USDA Service Center.
Conservation Technical Assistance (CTA) – Conservation Technical Assistance provides help to land users – farmers, ranchers, nonindustrial private forests landowners and tribes – to address opportunities, concerns, and problems related to the use of natural resources and to help land users make sound natural resource management decisions.
Emergency Watershed Protection Program (EWP) Wind Erosion Prevention – Approximately $4 million is available through the Emergency Watershed Protection Program for local cities, counties, and irrigation districts to partner with NRCS to address wind erosion. Traditionally, EWP allows NRCS to provide federal funds to help local governments respond to emergencies created by natural disasters. Efforts can include, but are not limited to, planting cover crops on fallow fields or adjacent land or spreading mulch or other cover material in critical areas. The goal is to enter into contracts with partners to then help agricultural producers or rural landowners install the conservation practices. In this case, EWP will be used proactively to address the loss of soil due to drought. EWP is applied for by a unit of government acting as the local sponsor to address a particular disaster issue. All projects must have a sponsor, and NRCS may provide up to 75 percent of the work to be completed. Interested partners are encouraged to contact Greg Norris, assistant state engineer for NRCS in California, at greg.norris@ca.usda.gov. For more information and to discuss potential projects, please call (530) 792-5609.
USDA's Food and Nutrition Service (FNS) works to end hunger and obesity through the administration of 15 federal nutrition assistance programs including the Supplemental Nutrition Assistance Program (SNAP) and school meals.
Food Assistance for Disaster Relief – The Food and Nutrition Service (FNS) coordinates with state, local and voluntary organizations to provide food for shelters and other mass feeding sites, distribute food packages to households in limited situations, and issue Disaster Supplemental Nutrition Assistance Program (D-SNAP) benefits. As part of the National Response Framework, FNS provides nutrition assistance to those most affected by a disaster or emergency. To find a SNAP office or food outreach project near you, click here.
The USDA's Rural Development (RD) service provides information and technical assistance to help members of the agricultural community improve the effectiveness of their operations.
Emergency Community Water Assistance Grant (ECWAG) – This program assists rural communities that have experienced a significant decline in quantity or quality of drinking water due to an emergency, or in which such decline is considered imminent, to obtain or maintain adequate quantities of water that meets the standards set by the Safe Drinking Water Act. Locate an office near you here. Find out more details on this program here. Applications are currently being accepted for 2015.
Community Facilities Direct and Guaranteed Loan Program – Community Facilities Programs provide loans, grants, and loan guarantees for essential community facilities in rural areas and towns of up to 20,000 in population. Loans and guarantees are available to public entities such as municipalities, counties, parishes, boroughs, and special-purpose districts, as well as to non-profit corporations and tribal governments.
Rural Community Development Initiative (RCDI) – The RCDI is a grant program meant to develop the capacity and ability of private, nonprofit community-based housing and community development organizations, and low income rural communities to improve housing, community facilities, community and economic development projects in rural areas. Recipients must be non-profit organizations, low-income rural communities, or federally recognized tribes. Intermediary organizations are required to provide matching funds at least equal to the RCDI grant. The grants do not go directly to business recipients but rather through qualified intermediaries. Applications must be submitted to the USDA Rural Development state office where the applicant's headquarters are located.
The US Small Business Administration (SBA) is an independent agency of the federal government that aids, counsels, assists, and protects the interests of small business concerns.
Economic Injury Disaster Loans (EIDLs) – Small, nonfarm businesses, small agricultural cooperatives, small businesses engaged in aquaculture and private, nonprofit organizations of any size may qualify for EIDLs of up to $2 million to help meet financial obligations and operating expenses which could have been met had the disaster not occurred. These businesses must be located in counties designated as disaster areas by USDA Secretary Tom Vilsack. The interest rate on EIDLs will not exceed 4 percent per year.

Disaster loan information and application forms are also available from SBA's Customer Service Center by calling (800) 659-2955 or e-mailing disastercustomerservice@sba.gov. Individuals who are deaf or hard-of-hearing may call (800) 877-8339. For more information about SBA's disaster assistance programs, visit http://www.sba.gov/disaster.
The California Department of Food and Agriculture (CDFA) strives to support agriculture in California by working with private industry, academia and public sector agencies on behalf of farmers and ranchers.
State Water Efficiency and Enhancement Program (SWEEP) – CDFA's SWEEP program provides financial incentives for California agricultural operations to invest in water irrigation and treatment and/or distribution systems that save water and reduce greenhouse gases (energy use). More information regarding the 2015 SWEEP program will be announced soon and available on the program website.
The University of California's Division of Agriculture and Natural Resources (UC ANR) is the bridge between local issues and the power of UC Research. ANR's advisors, specialists and faculty bring practical, science-based answers to Californians. ANR works hand in hand with industry to enhance agricultural markets, help the balance of trade, address environmental concerns, protect plant health, and provide farmers with scientifically tested production techniques and Californians with increased food safety.
Drought Resources: In the midst of historic drought, California's academic institutions serve as a tremendous resource both in offering everything from near-term management advice to farmers and ranchers to the innovative work being carried out by researchers on a vast array of issues from drought resistant crops to snow sensors to climate change. These resources are being continuously updated as we work to bring the resources of the state's universities and colleges to a broad range of communities. To visit the UC Division of Agriculture and Natural Resources Drought Web Page, click here.
The CA Department of Community Services and Development (CSD) partners with private, non-profit and local, government community-based organizations dedicated to helping provide assistance to low-income individuals and families. As part of a federal Community Services Block Grant (CSBG) award, CSD provides funding for several programs to provide assistance. CSBG funds innovative programs that address the leading causes of poverty as determined locally by administering community based organizations. To name a few, CSBG helps low-income individuals obtain employment, increase their education, access vital early childhood programs, and achieve or maintain their independence. CSBG funding supports projects that:
Lessen poverty in communities
Address the needs of low-income individuals including the homeless, migrants and the elderly
Provide services and activities addressing employment, education, better use of available income, housing, nutrition, emergency services and/or health
Services under CSBG are provided by non-profit and public agencies in local communities throughout the state. Due to the unique block grant requirements of CSBG, services offered throughout the state will vary depending on the local needs assessment conducted in each community.
To read more about these programs, please visit CSD's Drought Web Page.
The CA Department of Housing and Community Development (HCD) provides leadership, policies and programs to preserve and expand safe and affordable housing opportunities and promote strong communities for all Californians. In disaster situations support programs exist to help minimize the negative long-term business impacts that result from the lack of water. These programs demonstrate that California farmers and ranchers are an essential part of our community and economy:
Drought Housing Rental Subsidies Program – The Drought Housing Rental Subsidies program, which will also help subsidize utility payments, will be offered to eligible individuals and families in nearly 30 counties. La Cooperativa, an association of nonprofit farmworker agencies, implements and administers the Drought Housing Rental Subsidies program on behalf of HCD. These counties have an unemployment rate that is higher than the 2013 statewide average and have a higher share of agricultural workers than the state as a whole. Individuals and families interested in applying for the Drought Housing Rental Subsidies program will have multiple access points. La Cooperativa has more than 50 offices in the 24 county area, plus four mobile units that will serve smaller agricultural communities. A short application will need to be completed and if an applicant is deemed eligible, rental payments will be made directly to the landlord and/or utility company. More information on the Drought Housing Rental Subsidies program is available by calling La Cooperativa at 916.388.2228.
Community Development Block Grant Program – CDBG Housing Rehabilitation Funds are available via a city's or county's housing department. Whether the residence is in an incorporated city or an unincorporated area, residents should contact their local department and ask about the availability of "CDBG housing rehabilitation" funding. Funding under Housing Rehabilitation may be used to address private well issues and lateral hookups to public infrastructure. Contact Susan.Naramore@hcd.ca.gov for more information.
CalHome Program – Program financing is available via a local jurisdiction or nonprofit, awardees announced previously. Existing awards from previous years may also be available through your counties. Contact: Raymond.Victor@hcd.ca.gov for more information.
For more information, please visit HCD's Drought Web Page.
Additional information will be provided as it becomes available, including additional state and federal resources.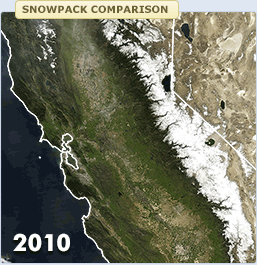 These NASA satellite images illustrate the severity of the drought by contrasting the Sierra Nevada snowpack levels in March 2010 and 2015.


Drought News
Folsom Lake rises 400 feet above sea level
(Staff & George Warren, ABC 10 News) –

Folsom Lake hit an important milestone over the weekend: Even though most of the slips at the marina are still mired in mud, it could be just a matter of days before hundreds of boats can come out of dry storage in the marina parking lot. The surface of the lake rose to 400 feet above sea level Sunday morning, prompting California State Parks to lift the 5 mile-per-hour speed limit that had been in place since early summer.

California Eagerly Awaits Sierra Snowpack Runoff As It Hopes For More Snow
(Steve Large, CBS 13 Sacramento) –

As the Sierra snowpack builds, the state's water supply eagerly awaits the melt and runoff in coming months. All this snowfall in the Sierra makes sledding fun and easy. the challenge is turning all this fresh powder into a use for the greater good.

Water board raises water reporting requirements
(Tim Hearden, Capital Press) –

Citing an emergency because of the drought, the state's water board has ramped up reporting requirements for California's roughly 12,000 landowners and users who have rights to divert water from nearby streams. The regulations require annual reporting of water diversions rather than reporting once every three years, as previous law required of senior right holders. Those who divert more than 10 acre-feet of water per year must also measure their diversions.