One Health Resources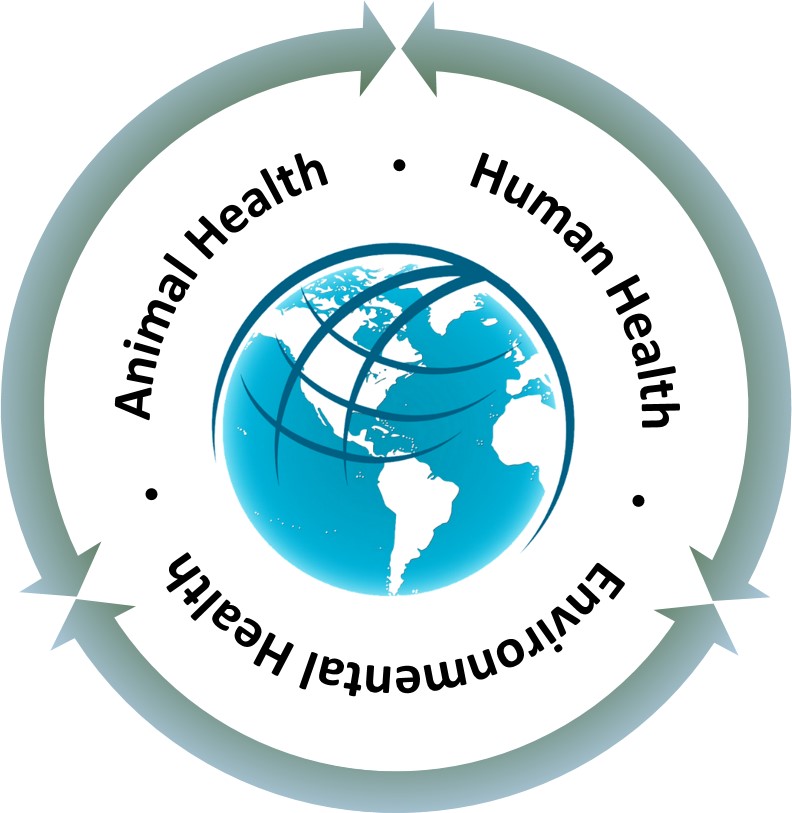 One Health
---
One Health is a concept that recognizes human, animal and environmental health are closely linked – improvements and advances, as well as adverse impacts, are not often isolated or exclusive. As globalization narrows the distance between countries, the human population continues growing, and large scale environmental changes pose novel challenges, the relationship between humans, animals, and the environment becomes more apparent. To best address the issues that arise, including emerging and zoonotic diseases, food insecurity, natural disasters and changes in climate, all three components should be considered in an interdisciplinary, cooperative approach. This perspective has been recognized and supported by international organizations like the World Organization for Animal Health (OIE), national agencies like the United States Department of Agriculture (USDA) and Centers for Disease Control and Prevention (CDC), and local institutions like the University of California, as well as individuals in numerous fields.
The Animal Health and Food Safety Services Division supports the One Health concept and is committed to collaborating with our local and national partners to protect California's livestock and public health, ensure a safe, wholesome food supply, and enhance stewardship of the environment.
---
Zoonotic Diseases
Zoonoses are diseases and infections that are naturally transmitted between animals and humans. At least 60% of all human pathogens are zoonotic, as well as 75% of recent emerging infectious diseases affecting humans. Pathogens may be bacteria, viruses, fungi, or parasites, and can spread by contact with animals or contaminated environment/objects, by insect or arthropod vectors, or through food.
Coronaviruses are a family of viruses that commonly circulate in companion animals, livestock, poultry, and human populations. In animals, the viruses tend to be adapted to a specific animal species and are named accordingly (e.g., bovine coronavirus, equine coronavirus). The viruses usually cause respiratory and gastrointestinal (enteric) disease but occasionally cause liver (hepatic) and neurologic disease. A list of coronaviruses in domestic animals can be found on the website for the American Veterinary Medical Association (AVMA) with links for additional information on the specific viruses:
https://www.avma.org/sites/default/files/2020-02/AVMA-Coronavirus-Taxonomy-Notes.pdf.

Some of the coronaviruses that infect humans cause the common cold, while others can cause severe disease and large outbreaks. The most noteworthy recent outbreaks associated with coronaviruses include Severe Acute Respiratory Syndrome (SARS-CoV) in China in 2002-2003, Middle East Respiratory Syndrome (MERS-CoV) from 2012 to the present, and currently, the novel coronavirus (SARS-CoV-2) that causes the disease known as COVID-19. Some coronaviruses that infect humans can also infect animals, and there can be transmission of the virus in both directions (examples of zoonotic diseases). For example, scientists believe SARS-CoV-2 originated from bats and the virus was first transmitted to humans. It is suspected that domestic animals are now becoming infected with SARS-CoV-2 from their human caretakers.

The United States Department of Agriculture (USDA) hosts a dashboard that shows information on all cases of animals diagnosed with SARS-CoV-2 in the U.S.:
https://www.aphis.usda.gov/aphis/ourfocus/animalhealth/sa_one_health/sars-cov-2-animals-us. The Centers for Disease Control and Prevention (CDC) has developed a webpage on SARS-CoV-2 and animals, including guidance for the public based on our current understanding of the virus and transmission between animals and people: https://www.cdc.gov/coronavirus/2019-ncov/animals/pets-other-animals.html. The CDC also distributes a Scientific Publication Tracker that summarizes publications related to SARS-CoV-2 in animals, humans, and the environment, including host susceptibility, virus reservoir, efficacy of personal protective equipment, and environmental contamination. The tracker is distributed monthly, and anyone interested in receiving it can email onehealth@cdc.gov.
---
Agriculture and the Environment
---
Antimicrobial Use and Stewardship (AUS)
---
Natural Disasters and Other Hazards