Volunteering

During response, the CARES relies on volunteers to staff many critical response and recovery functions for animals in disasters. Local and County governments have jurisdictional authority for overseeing the animals in disaster response and volunteers are urged to work directly with Counties and local government on agreements for emergency response.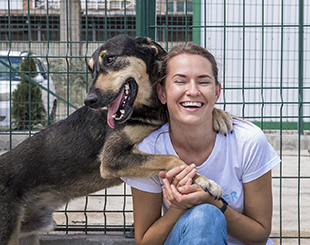 Volunteering allows you to "Make a Difference" in your community, which is the greatest benefit of volunteering. As a volunteer, you should be aware that:
When choosing to volunteer consider family preparedness so that your family is safe while you volunteer. Emergency response can be physically and mentally difficult so personal medical conditions should be evaluated prior to volunteering.
Volunteers deployed will be registered in their local county as Disaster Service Workers (DSW), a program that provides liability and workers compensation protections. The DSW program is typically maintained by the county or local government, often by police or fire agencies.
Every attempt will be made to match the volunteer's skills, competencies and license or registration level with the assigned responsibilities during an emergency or disaster. There may be times when a volunteer may be asked to assist with activities that are not equivalent with a person's normal work duties or expectations.
Volunteers are a valuable resource that helps to increase the resiliency of local communities and States, making them less dependent on Federal resources.
"One of the great ironies of life is this: He or she who serves almost always benefits more than he or she who is served." - Gordon Hinckle
Below are links to organizations that you can volunteer with.
Volunteer Animal Response Teams
Animal Response Teams are typically 501(c)3 non-profit organizations. They are known by various names but are more well known as Community Animal Response Team (CART). All have a common purpose, which is to mitigate the loss of human and animal life by assisting emergency response agencies with animal evacuation, emergency sheltering, search and rescue and animal reunification during disasters. These volunteers continuously train to provide the most efficient service to animals in disasters and their owners.
To Volunteer with an Animal Response Team, click to find the respective link in your county or community and register.
Laws and Guidelines Relevant to Volunteers
Some Laws and Guidelines that apply to volunteering in disasters include the following:

Contact Us

CDFA Animal Health and Food Safety Services,
Animal Health Branch

1220 N Street

Sacramento, California 95814

Phone:

916-900-5002

Fax: 916-900-5333

Email:

CDFA.AHB_Cares_Program@cdfa.ca.gov

Our offices are open 8:00 AM to

5:00 PM Pacific Time.