European Grapevine Moth (EGVM) Quarantine Information

Pest Hotline: 1-800-491-1899
Quarantine Info:
For questions on quarantines and/or bringing plants, fruits or vegetables into California, call (916) 654-0312.

Download the latest version of Google Earth for PC, Mac, or Linux.
TIP

: If you have trouble opening a PDF, right-click on the document and save onto your desktop before opening it.
CDFA YouTube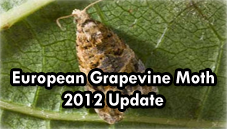 Status report on the efforts being taken to control the European Grapevine Moth(3:34)