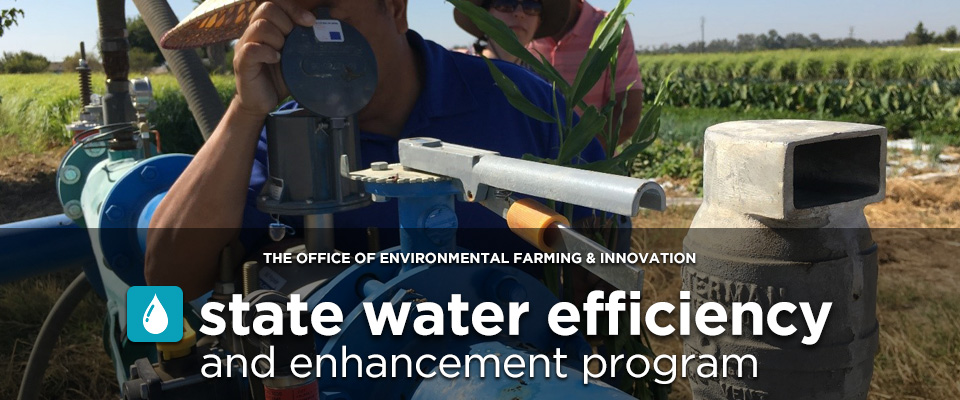 Irrigation Technical Resources
Irrigation Technical Resources for SWEEP Applicants and Awardees
There are many resources available in California for farmers to learn and strengthen technical irrigation knowledge. When it comes to optimizing irrigation for yield and for environmental benefit, the management of the irrigation system is just as important, if not more, than the technology that is employed. This page highlights just a few of the resources that farmers can use to find training or to increase knowledge about the irrigation technologies that are funded through SWEEP.
Training Resources:
CDFA recommends that agricultural operations participate in training regarding agricultural water management to maximize water and energy savings from SWEEP projects. SWEEP applicants that indicate that they will obtain training will receive additional consideration of their SWEEP application during the review period. Applicants may select one of the training resources below or another course that is relevant to their project type.

SWEEP awardees who indicated that they would commit to irrigation training may utilize these resources to identify a relevant course, seminar, or in-field training activity to meet the terms of the grant agreement. When participating in a training, obtain evidence (e.g., certificate of completion or receipt) to submit to the grant analyst. Training that was completed in the past two years may also be submitted to satisfy this requirement. Contact your grant analyst if you have questions on the types of training required.

SWEEP Irrigation Training Resources (PDF)
Technical Resources:
Cal Poly Consumer Bill of Rights
The 2019 update includes the following versions:
Cal Poly Resources – The ITRC has provided select reports written by staff for use online.
CSU Fresno Center for Irrigation Technology Pump Testing Resource
CDFA's Fertilizer Research and Education Program (FREP) Irrigation Maintenance Checklist
CIMIS
University of California, Division of Agriculture and Natural Resources (UC ANR)