SWINE HEALTH RESOURCES & INFORMATION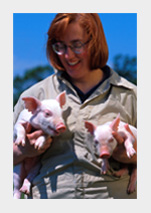 Swine Health Information
and Resources
PED is a viral disease that is associated with outbreaks of diarrhea and vomiting in swine. More...
---
The swine industry is invaluable to California's agriculture. Our branch aids in the management of swine diseases that cannot be managed by a single producer and their veterinarian. If you raise swine, having a private practitioner to aid in disease diagnosis is important because of the highly contagious nature of some diseases to swine, other species of livestock and/or people. The risks of disease introduction are greater than ever, because of expanding international trade and travel. A highly transmissible foreign animal disease can spread rapidly if undetected or detected but not reported. Some signs to look for are blisters on hooves and on the snout, unusual or unexplained illness, hemorrhagic septicemias, unusual skin lesions ranging from cyanotic patches on the ears and abdomen to raised, scabby lesions mainly on the legs, high morbidity or mortality. If you suspect you are dealing with such a disease, contact your district office.
The demand for swine in California is increasing greatly. Expanding ethnic populations have created new demands on the market place. Some marketing may occur through non-traditional avenues, which are not easily monitored. The Animal Health Branch recognizes this potential risk and approaches issues accordingly when dealing with diseases within the various segments of the swine industry. CDFA continues to develop programs and policies that are adjustable to the continuing changes in the industry, while at the same time protecting the well-being of swine and other livestock in California.
With an extensive wild/feral pig hybrid swine population in the state, California recognizes that swine diseases such as Pseudorabies and Brucellosis, which have been eradicated from commercial herds, can be reintroduced to domestic swine through exposure to feral swine. If you suspect feral swine have intermingled with a commercial herd, herds with outdoor access or transitional swine, report it to your district office.
Since animal diseases may affect swine populations in any state, there are Federal-State Cooperative Programs (FSC) that address these diseases. Swine Pseudorabies and Brucellosis, Classical Swine Fever and the Swine Health Protection Act are all examples of FSC programs.
Biosecurity Resources:
USDA African Swine Fever Infographics:
Foreign Animal Disease Resources:
Senecavirus A, (SVA), belongs to the same family as foot and mouth disease (FMD) "Picornaviridae". It has been identified in U.S. swine since the 1980s and is occasionally implicated in sporadic outbreaks of idiopathic vesicular disease. SVA has been frequently associated with clinical signs and gross lesions that are indistinguishable from vesicular foreign animal diseases (FADs), including FMD, vesicular stomatitis (VS) and swine vesicular disease (SVD); making rapid response and differential diagnosis imperative. Disease has been also reported in Canada, Australia, Italy, New Zealand and, most recently, in Brazil.

In the last few years, clinical cases of SVA in swine have significantly increased, drawing industry and regulatory attention to the virus. All cases of vesicular disease must be reported to CDFA/USDA to ensure rapid detection of catastrophic diseases such as FMD. SVA was added to the 2019 CDFA "List of Reportable Conditions for Animals and Animal Products" in the monitoring conditions column; trade and commerce are not restricted and the virus has little to no impact on swine production.

As vesicular lesions can be caused by several diseases, including FMD, CDFA/Animal Health Branch and USDA Veterinary Services (VS) foreign animal disease diagnosticians respond to these cases immediately by conducting a FAD investigation and sending samples to the CAHFS Laboratory to test for FADs and SVA the same day. This disease has not been diagnosed in California before October 2015, but since then has initiated numerous swine FAD investigations in the state and nationally.

Cases presenting similarly to FMD, VS or SVD must be treated as such until FADs can be ruled out necessitating the following activities:

Herd Veterinarian

Intensive observation of animals for gross lesions and clinical signs
Upon encountering a suspect case, the veterinarian should:

Stay at the site and enhance biosecurity
Report to CDFA/USDA and follow instructions

Producer

Do not move animals which are ill, exhibiting clinical signs or active lesions
If possible, segregate/isolate affected animals on the site
Document movements leading up to and immediately surrounding the onset of clinical signs (as the information may be useful on diseases analysis or for a FAD investigation)
Cooperate with sample collection and submission as part of a FAD investigation under the direction of CDFA/USDA

Senecavirus A, Swine Health Information Center (SHIC) Fact Sheet
Contact Us

CDFA Animal Health and Food Safety Services,
Animal Health Branch

1220 N Street

Sacramento, California 95814

Phone:

916-900-5002

Fax: 916-900-5333

Email:

ahbfeedback@cdfa.ca.gov

Our offices are open 8:00 AM to

5:00 PM Pacific Time.