Bureau Of Livestock Identification
Bureau Of Livestock Identification

Inspection Requirements - 21051
Except as otherwise provided in this chapter, cattle shall be inspected as follows:
Whenever cattle are sold or ownership is transferred
Prior to movement out of any designated modified point-of-origin inspection area, for purposes other than sale or slaughter and no change of ownership is involved, as provided in Section 21111.
Prior to movement out of the state.
Upon entry into a registered feedlot.
Prior to slaughter.
Prior to release or sale from a public stockyard, public saleyard, or public or private cattle sales market.
Prior to release from a posted stockyard or posted saleyard.
Prior to transportation out of a full point-of-origin area, as provided in Section 21141.
Prior to transportation or movement from premises designated as quarantine, restriction, or isolated areas pursuant to Section 9565.
Documents Required When Cattle Are Being Transported Must Be Exhibited To Any Brand Inspector Or Peace Officer Upon Request
When brand inspection is required, an original or supplemental brand inspection certificate must accompany the cattle.
A Bill of Sale or Consignment (Yellow Slip) must accompany all cattle transported within the state when no brand inspection or salesyard outbilling is required.
Current Inspection Fees
---
Strays & Fences
Section 17042
is amended to read: Any person that takes up an estray animal shall confine it in a secure place, and shall immediately file with the secretary a notice containing all of the following:
A description of the animal seized.
The marks and brands, if any.
The probable value of the animal.
A statement of the date and place where it was taken up and confined.
---
Contact Information
Contact us for more information
California Department of Food and Agriculture
Animal Health and Food Safety Services, Bureau of Livestock Identification
1220 N Street
Sacramento, California 95814
Telephone: 916-900-5006
Fax: 916-900-5335
Or send an email to the bureau: bliinfo@cdfa.ca.gov
Brand News

Brand Renewal On-line

Tuesday, November 14, 2023

1:30 P.M. - 4:00 P.M.

Conference Room 333

1220 N St

Sacramento, CA 95814

OR

International Ag Center

4500 S. Laspina Street

Tulare, CA 93274

OR

Join Zoom Meeting:

Zoom Details in the Notice & Agenda

Inspection Fee Decrease Rural Crime School: To Catch a Cattle Thief 2010 Brand Book Missing or Stolen Reports Locate Your Inspector By County CCA Reward Program Report Line:
1-800-671-4327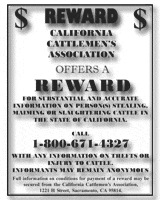 Our Mission

The state's brand registration and inspection program protects cattle owners in California against loss of animals by theft, straying or misappropriation. The branch's program consists of registration of cattle, horse, burro, and sheep permanent brands (link to application); inspection of cattle for lawful possession prior to movement, sale or slaughter, and recording of the information obtained by such inspections; and assisting local law enforcement with investigations and prosecutions involving cattle theft. The state's brand registration and inspection program is financed, in its entirety, through brand registration and inspection fees paid by the cattle owners.