Facilities
Biocontrol Program: Facilities and Map
---
Meadowview Office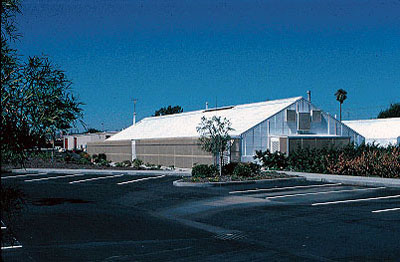 The primary facility used by the Biological Control Program is located at the Meadowview Road site in Central South Sacramento.The site houses the Program's 1720 square feet of office space, a 3,000 square foot warehouse, and five trailers retrofitted to be used as labs.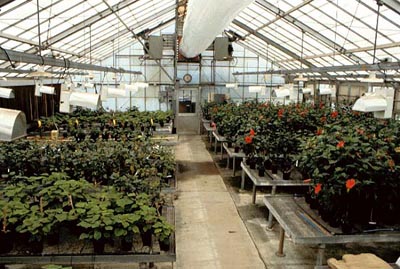 The Meadowview facility also boasts of a 3,500 square foot greenhouse that has been partitioned to house multiple projects at one time. Mass rearing of beneficials, maintenance cultures of host insects, and numerous research studies can be observed simultaneously in our glasshouse.
---
Driving Directions
Driving from the Bay Area: Take I-80 East towards Sacramento.Take the I-80 Business Loop exit on left towards Sacramento/South Lake Tahoe/US-50. Take the I-5 North/South exit towards Los Angeles/Redding. Merge onto the I-5 South Ramp and continue for approximately 6 miles.Take the Pocket Road /Freeport exit, turn left onto Pocket Rd.and continue straight onto Meadowview Rd. for approx. 2 mi.
From the Placerville area, take US-50 West towards Sacramento. At the freeway interchange, take the Hwy-99 South exit towards Fresno and continue for approximately 6 miles. Take the Mack Rd West exit and continue for approx 2.5 mi.where Mack Rd becomes Meadowview Rd. The California Department of Food and Agriculture complex is located on the South side of Meadowview Road just past the railroad tracks if traveling from the East.
From the Redding area, take I-5 South towards Sacramento and continue through towards Los Angeles. Take the Pocket Road exit and proceed East on Meadowview Road.
From the Lodi/Modesto area, driving North on I-5, take the Pocket Road exit and continue East on Meadowview Road for approx. 2 miles. Driving North on Hwy-99, take the Mack Road West turn off and continue for approx. 2.5 miles until Mack Rd. become Meadowview Rd.
---