The Farm Bill creates jobs, protects our environment and natural resources, revitalizes rural economies, invests in education, promotes renewable energy, and improves public health and nutrition.
The Farm Bill creates jobs. Farming is the backbone of our economy and our daily lives, providing healthy fruits and vegetables, nuts, dairy, grapes and grains that we eat and drink, cotton for the clothes we wear, and energy to power our lives. California produces more than 400 crops on 81,500 farms that employ 800,000 laborers (double the number of state employees). Farm Bill programs expand job training and resources, foster job creation in the green economy, and build resources in rural communities to improve the business environment.
At a time when many sectors of the economy are faltering, agriculture is strong. California agriculture is a $37.5 billion per year industry, making California the largest agricultural producer in the U.S., 12 percent of total agricultural revenue. California is also a trading powerhouse, exporting 23 percent of the products grown and harvested in state, $12 billion in value. We grow crops that not only feed, clothe and power California, but also the nation and the world.
Expand
The Farm Bill improves public health and nutrition.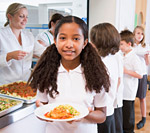 The Farm Bill is not just for farmers; it provides funds to grow, promote and purchase safe and healthy foods. California, one of only five Mediterranean growing regions in the world, is able to provide an abundance of crops, over half the nation's fruits, nuts and vegetables alone. Today, with a renewed interest in products that are healthier, safer and more locally grown, California's farms are even more important. This resurgence is building bridges between our food policy network and our rural communities and food deserts, between farms and urban environments, between nutritionists and farmers.
The Farm Bill funds nutritional assistance programs of which more than 4 million Californians, 10 percent of our population, are eligible. Federal investment in food assistance results in the largest economic stimulus return; every dollar in funding generates approximately $1.73 in economic activity, compared to unemployment insurance ($1.64), aid to state governments ($1.36) and infrastructure spending ($1.59), supporting the purchase of California grown food and increasing our federal funding. This Farm Bill is an opportunity to find new and innovative ways to utilize nutrition programs to provide healthier foods and food security.
Expand
The Farm Bill protects our environment and promotes renewable energy.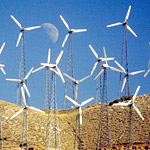 The resources and tools for California to address climate change, conservation and renewable energy are found within the Farm Bill. More than 43 percent of the land in California is used for food production. In contrast, our urban footprint is about 5.5 million acres, or five percent of California's land base. Farming is our backyard and provides us many benefits in addition to food and fiber.
Conservation programs support renewable energy, air and water quality, stewardship practices on the land that absorb carbon, pest prevention and management, improved irrigation practices, and forest management. California farmers have: reduced nitrous oxide emissions in the San Joaquin Valley by 5.5 tons, equal to taking 408,000 cars off the road and saving money that would have been spent on paperwork; paid for 71 miles of hedgerows, providing a home for 1,500 species of pollinators and wildlife, and; improved irrigation efficiency 25 percent on over 200 billion gallons of water, enough to fill over 1 million swimming pools. Farming byproducts, a rich source into which we are just beginning to tap, are increasingly providing us with energy to power our homes, buildings and vehicles.
Because of our unique climate and vast trade – California is the primary point for goods entering and leaving the country – we are constantly under threat from invasive species that attack our crops, forests and animals, threatening our food supply and natural resources. CDFA, farmers, and our local and federal partners, fight these threats every day, from Sudden Oak Death to the glassy winged sharpshooter. But, we need the funds of the federal government to effectively continue this fight. In 2010, the federal government contributed nearly $106 million in California, $70 million directly to CDFA.
Expand
The Farm Bill revitalizes rural communities.
The Farm Bill is also about rural communities, supporting healthcare, housing, communications, and economic development within critical areas of our state. In building jobs for the future, we need to develop infrastructure, improve water and sewer facilities and improve employment opportunities. The Farm Bill helps connect these dots – supporting more than $59 million in water and wastewater grants and loans, as well as over $115 in loans supporting new job opportunities and business planning.
The Farm Bill invests in education.
Research is critical to advance and sustain productivity as well as spur innovation within our economy. The farm bill invests in California's university systems, providing research funding to improve air and water quality, integrated pest management, food safety, and on-ground resources to enhance farming. By investing in education and research the farm bill is supporting California's world-renowned universities and contributing to the important research that assists the largest farm state in the nation.
California needs to speak with one voice to create bold change in food and agricultural policy – becoming a driver for jobs, the environment, rural communities, and improved health for the state and nation.