Bio for Martha Montoya
Martha Montoya
Agricultural Industry Member
Term Expires: January 2020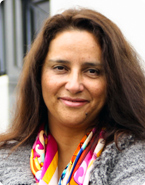 Martha Montoya is at the forefront of the dialogue regarding diversity contracting with corporate America, particularly in the food and agricultural industries. She leads several national initiatives to advance the position of Minority owned businesses. Present and past board member of various leading organizations including the United States Hispanic Chamber of Commerce, the California Hispanic Chamber of Commerce, HACR (Hispanic Corporate Responsibility), United Fresh Produce Association Grower-Shipper Board, NHLA (National Hispanic Leadership Agenda), Latino Food Industry Association and several more. Through her work, Martha has forged relationships with Corporate, State and Federal leaders in United States and countries overseas to understand and bring to the table candid conversations to find solutions for the small, minority and women business advancement.
With over 25 years of worldwide agricultural experience and traveling throughout many countries doing business, taught Martha cultural sensitivity, business practices and negotiating skills while delivering projects beneficial for everyone on the supply chain across 4 continents. Martha's commitment has always been to sustainability with a commitment to excellent product quality and attention to the environment and social issues throughout the delivery process.
As a child born to educators for working and rural families, in Bogotá, Colombia, Martha began her professional career as a teacher of Chemistry, Biology and English in her native country. Upon arriving to the United States, Martha integrated herself into the educational system, having taught in both the public and private school systems in California. Besides Martha's formal education in Colombia she has earned a certificate from the University of Chicago and has pursued post graduate business courses at the Tuck School of Business at Dartmouth, Stanford Entrepreneurial on Scalability and UC Davis Food, Ag & Health Entrepreneurship.