Bio for Andrew J. Thulin
Andrew J. Thulin
Ph.d, Academic Member (California State University)
Term Expires: January 2019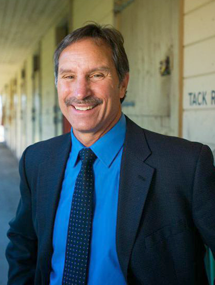 Andrew J. Thulin began his role as dean of Cal Poly's College of Agriculture, Food and Environmental Sciences (CAFES) in June 2014, after serving as interim dean for the prior year.
Prior to his current role, Thulin concurrently directed strategic initiatives for the university and served as head of CAFES' Animal Science Department. Under his 15-year leadership, the Animal Science Department implemented a new strategic vision that led to a significant expansion of facilities, faculty and staff. Graduation rates increased to nearly 90 percent, and more than $16 million was raised for new laboratories and the construction of a new Beef Center, Animal Nutrition Center and Meat Processing Center, among others.
Before joining Cal Poly in 1998, Thulin managed technology deployment at Cargill, Inc., the nation's largest private company. His responsibilities included spearheading new international business ventures and deploying new technologies to bring greater efficiencies and increased profitability to the company. Prior to joining Cargill, Inc., Thulin was a professor at Michigan State University, where he held a three-way appointment in extension, teaching and research.
Thulin graduated from Cal Poly with a bachelor's degree in animal science, and completed his master's and doctorate degrees at Kansas State University.
His board service includes: founding member of the Cal Poly Foundation Board of Directors; Secretary-Treasurer of the Cal Poly Corporation; International Food Protection Training Institute Board of Directors; Food Systems Leadership Institute Site Director; and California Ag Leadership Institute Site Dean.