California & 2018 Farm Bill
California & 2018 Farm Bill
The Farm Bill creates jobs. California's 77,500 farms and ranches produce 50 percent of the nation's fruits, nuts and vegetables; twenty percent of the milk; and more than 400 different agricultural commodities. Investment in agriculture is an investment in our nation's future. Farm Bill programs support farm competitiveness, help to revitalize rural communities, ensure affordable and healthy food to those that needs it most, and promote conservation and environmental stewardship on working lands.
---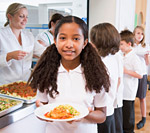 The Farm Bill supports food and nutrition programs.
The Farm Bill is not just for farmers; it provides funds to grow, promote and purchase safe and healthy foods.
In California, the Supplemental Nutrition Assistance Program (SNAP) provides nearly 4.2 million Californians with benefits. According to some estimates, up to 20 percent of Californians are at risk of food insecurity, including more than two million children. Additionally, more than one million Californians live in "food deserts" where they lack access to supermarkets providing basic food products and are stocked with fresh fruits and vegetables.
California strongly advocates that domestic food assistance programs remain an integral part of the 2018 Farm Bill. Any budget or policy changes should continue the structure of the SNAP, so it stays responsive to economic changes and adequately supports Californians in need.
The Farm Bill revitalizes rural communities
While California's population is more urbanized than that of the United States in general, California has a significant rural land mass with a rural population spread throughout many counties. These rural areas are highly dependent upon natural resource based industries, i.e., logging, fishing, farming and ranching. Despite agriculture's success story, the state's rural areas have experienced higher unemployment rates, lower household incomes and lower education attainment.
The Farm Bill supports healthcare, housing, communications, and economic development within critical areas of our state.
The Farm Bill supports innovation and competitiveness.
Farming and ranching is an inherent part of California. As the largest agricultural producer and exporter in the nation, securing the competiveness of America's farmers and ranchers domestically and internationally is in the best interest of California. Federal support of market development and competitiveness programs enhances the ability of farmers and ranchers to compete on a level playing field. The Farm Bill should continue to safeguard marketing and trade programs to ensure an equitable marketplace for the nation's farmers and ranchers.
Like other industries, farmers and ranchers are subject to unpredictable factors beyond their control—drought, weather events, and market instability to name a few. California's historic drought serves as an unfortunate example of this volatility. To mitigate risk, the Farm Bill should provide a stronger, more robust safety net to provide support when the next unexpected calamity arrives.
---
The Farm Bill protects our environment through conservation and stewardship.
The resources and tools for California to address climate change, conservation and renewable energy are found within the Farm Bill. Protecting and enhancing the land in which our food is grown and/or raised is vital to all Californians. The Farm Bill contains a variety of programs that support on-farm conservation practices and stewardship while also providing resources to rural communities to ensure clean drinking water.
Conservation programs provide multiple benefits while improving agricultural production. California farmers and ranchers will continue to utilize the tools provided in the Farm Bill to maintain the health and quality of their operations, while also improving the environment around them.
The Farm Bill invests in research.
By investing in education and research the Farm Bill is supporting California's world-renowned universities and contributing to the important research that assists the largest farm state in the nation.
Research is vital to a thriving agricultural economy, combating disease, ensuring access to safe food and improved nutrition and responding to a changing climate. While farmers, ranchers and agricultural enterprises spend hundreds of millions in research dollars, it is critical that the Farm Bill expands USDA's participation in research and continues support for the University of California, California's world-class land grant university.
Resources
Congressional Research Service Reports
California Farm Bill Documents