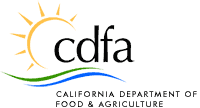 California Agricultural Production Statistics
USDA/NASS Crop Year Report
In 2014, the most recent year for which a full crop-year report is available, California's 76,400 farms and ranches received $54 billion for their output.
California's agricultural abundance includes more than 400 commodities. The state produces nearly half of US-grown fruits, nuts and vegetables. Across the nation, US consumers regularly purchase several crops produced solely in California.
California's top-ten valued commodities for 2014 are:
Milk — $9.4 billion
Almonds — $5.9 billion
Grapes — $5.2 billion
Cattle, Calves — $3.7 billion

Strawberries — $2.5 billion
Lettuce — $2 billion
Walnuts — $1.8 billion
Tomatoes — $1.6 billion
Pistachios — $1.6 billion
Hay — $1.3 billion
More details about 2014 agricultural production will be released, when available. California agricultural statistics derive primarily from the United States Department of Agriculture/National Agricultural Statistics Services (USDA/NASS) reports. The California Department of Food and Agriculture publishes statistics related to California dairy production and, in cooperation with the University of California at Davis, statistics for California agricultural exports. For most timely research into California dairy statistics, please see our dairy pages under Division of Marketing Services.
California agricultural exports' statistics are displayed on this page and within the individual crop year reports. Individual crop year reports typically are published beginning in October following the crop year.
2013 agricultural production statistics may be found here.
California Agricultural Exports
In 2013, California's agricultural exports amounted to $21.24 billion in value, representing a 15 percent increase over the previous year. In terms of value, California's top three agricultural exports are almonds, dairy and dairy products, and wine. California's share of total US Agricultural exports for 2013 was 14.7 percent or slightly more than the 13.1 percent share reported the previous year.
SELECT COVERS BELOW TO VIEW NASS/CDFA AGRICULTURAL RESOURCE REPORTS*:









2008 REPORT
2007 REPORT
2006 REPORT
2005 REPORT
2004 REPORT
(*NOTE: CDFA did not publish separate 2010, 2003 or 2002 Crop Reports, however
a link to the NASS reports for these years is provided in the column on the right.)
More Resources
Previous Reports
Previous NASS Annual Reports: by Crop Year & Release Date: