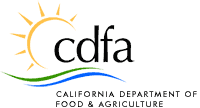 California Agricultural Production Statistics
2016 Crop Year Report
In 2016 California's farms and ranches received over $46 billion for their output. This represents a decrease of about six1 percent compared to 2015. Despite this decrease, California remains the leading US state for cash farm receipts.
For the 2016 crop year, California agricultural exports totaled $20.04 billion. Top commodities for export included almonds, wine, dairy and dairy products, walnuts and pistachios. Export statistics are produced by the University of California, Davis, Agricultural Issues Center.
California's agricultural abundance includes more than 400 commodities. Over a third of the country's vegetables and two-thirds of the country's fruits and nuts are grown in California. California's top-10 valued commodities for the 2016 crop year1 are:
Dairy Products, Milk — $6.07 billion
Grapes — $5.58 billion
Almonds — $5.16 billion
Cattle and Calves — $2.53 billion

Lettuce — $1.96 billion
Strawberries — $1.83 billion
Pistachios — $1.5 billion
Tomatoes — $1.33 billion
Walnuts — $1.24 billion
Oranges — $826 million
Note: The 2016 Crop Year Report was assembled in late 2017. For most recent agricultural statistics, please use the links on the right side of this page to query the USDA Economic Research Service data as well as the USDA National Agricultural Statistics Service. California dairy industry statistics are made available in Spring following the crop year and are available through the CDFA Dairy Marketing pages. For detailed county-level data please follow the links on the right or visit the CDFA County Liaison pages.
Please click on an annual crop year report cover below to view the full report.
---
1 Based on USDA ERS figures published as of February 7, 2018
SELECT COVERS BELOW TO VIEW NASS/CDFA AGRICULTURAL RESOURCE REPORTS:
More Resources
CA Crop Year Reports
(2016-1993 CDFA & USDA NASS)