Plant Health Division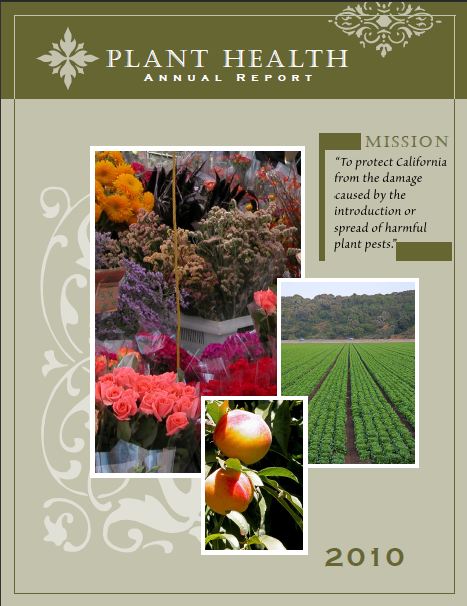 2010 Annual Report: Please click on image or text link to open report (23 MB PDF).
The Plant Health Division consists of the following branches: Administration (including Permits and Regulations, and the Office of Pesticide Consultation and Analysis), Pest Exclusion (PE), Pest Detection/Emergency Projects (PDEP), Integrated Pest Control (IPC) and the Plant Pest Diagnostics Center (PPD).
NOTE: If you have trouble opening a PDF, right-click on the document's text link and save target onto your desktop before opening it.
Archive



2009 Annual Report: Please click on image or text link to open interactive pdf report (46 MB). Report will open in full screen mode. TIP: Please wait until report is completely downloaded before browsing through report. When fullscreen is turned off, open bookmarks panel to access quick links.

The Plant Health and Pest Prevention Services Division consists of the following branches: Administration (including Permits and Regulations), Pest Exclusion (PE), Pest Detection/Emergency Projects (PDEP), Integrated Pest Control (IPC), Light Brown Apple Moth (LBAM) and the Plant Pest Diagnostics Center (PPD).




You may also view Annual Report by Section:



Modified - 04/09/12