Healthy Soils Week
Celebrate Healthy Soils Week
November 30 – December 5, 2020
---
Follow us on social media: #HealthySoilsWeek2020 #HSW2020
Join the California Department of Food and Agriculture and our many partners in highlighting soil health! Click on the dates below to see the at-home activities and virtual events scheduled for each day. We will be updating and adding to the Healthy Soils Week calendar over the next few weeks, so bookmark this page and check back often.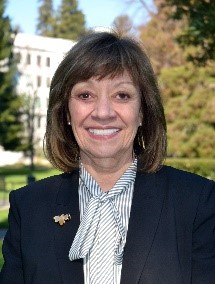 Video "Healthy Soils on the Farm and at Your Home". CDFA Secretary Karen Ross kicks off Healthy Soils Week 2020 with this video that describes the benefits of healthy soil and this year's activities and events.
---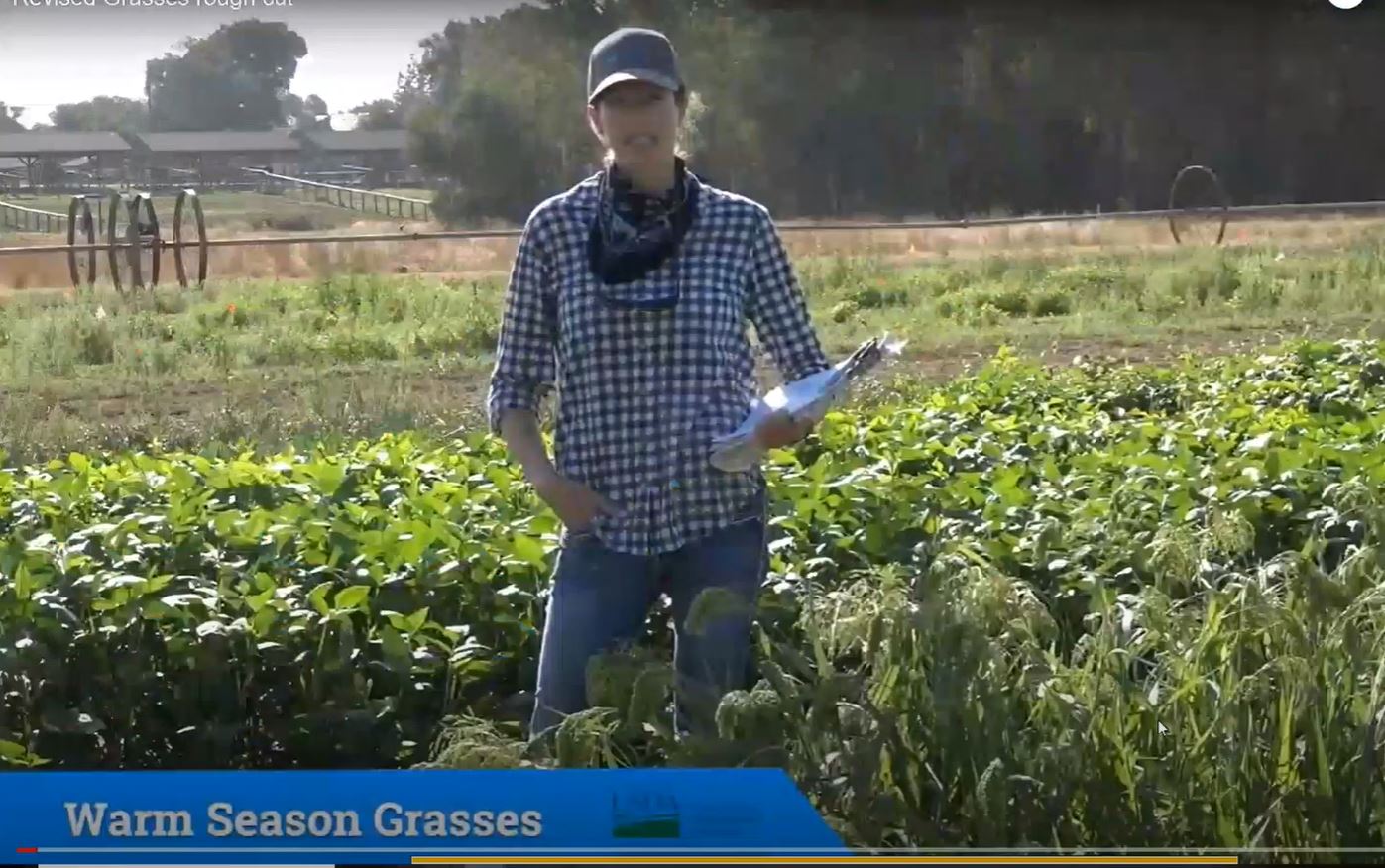 Video "Virtual Cover Crop Field Day": 2 – 3:30 p.m. Hosted by the NRCS Plant Materials Center (PMC) in Lockeford, this event was recorded live and includes an introduction to the PMC, presentations on the warm season cover crop trial that was coming to an end and a discussion by local seed suppliers on planting winter cover crops. Click here to watch.
---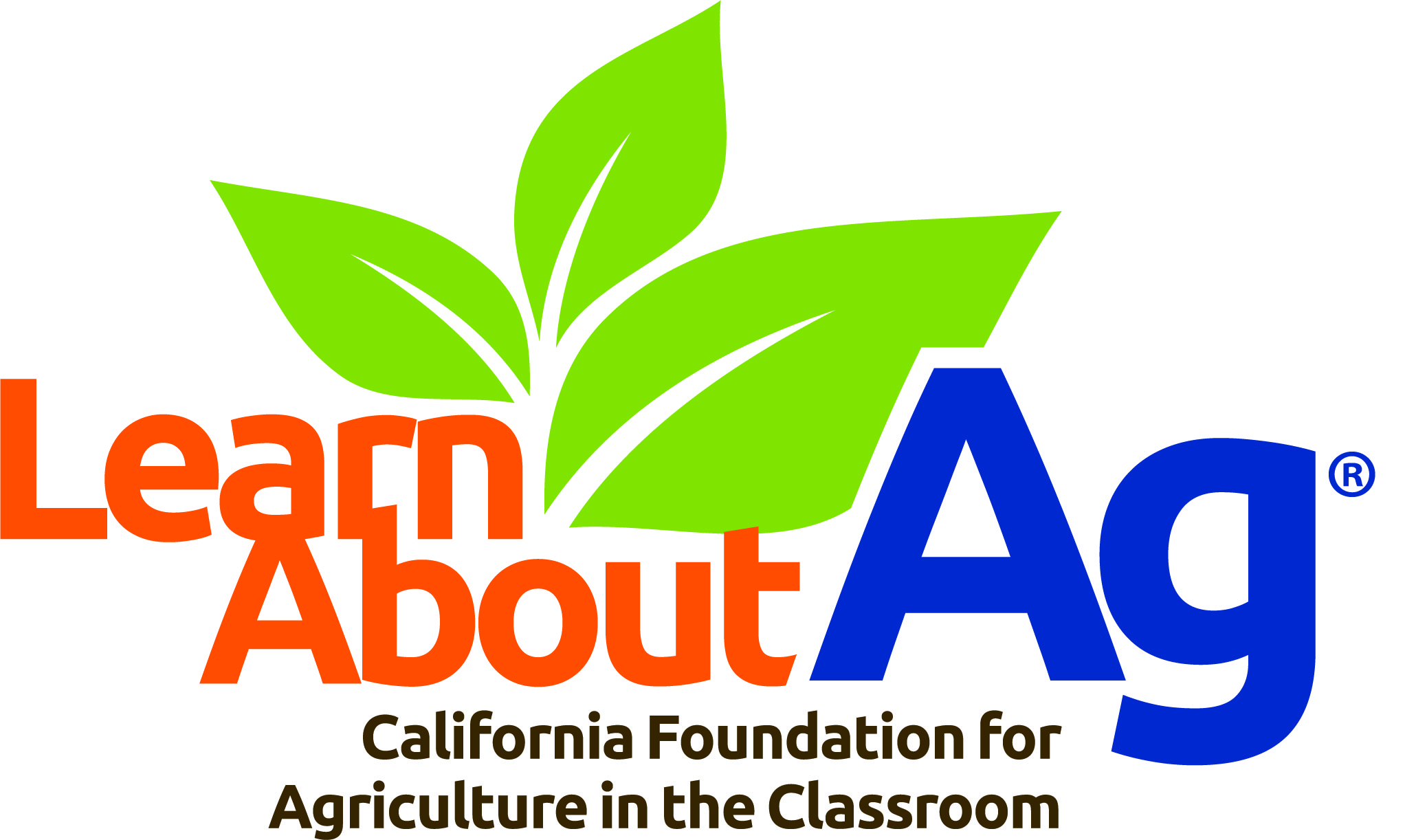 Youth Science Project "Too Much? Too Little? Soil Experiments (Grades 5-8)": Looking for a science experiment to #LearnAboutAg@Home using simple materials? Use this Soil Experiments lesson to discover that different soil types provide different levels of nutrients for plant growth.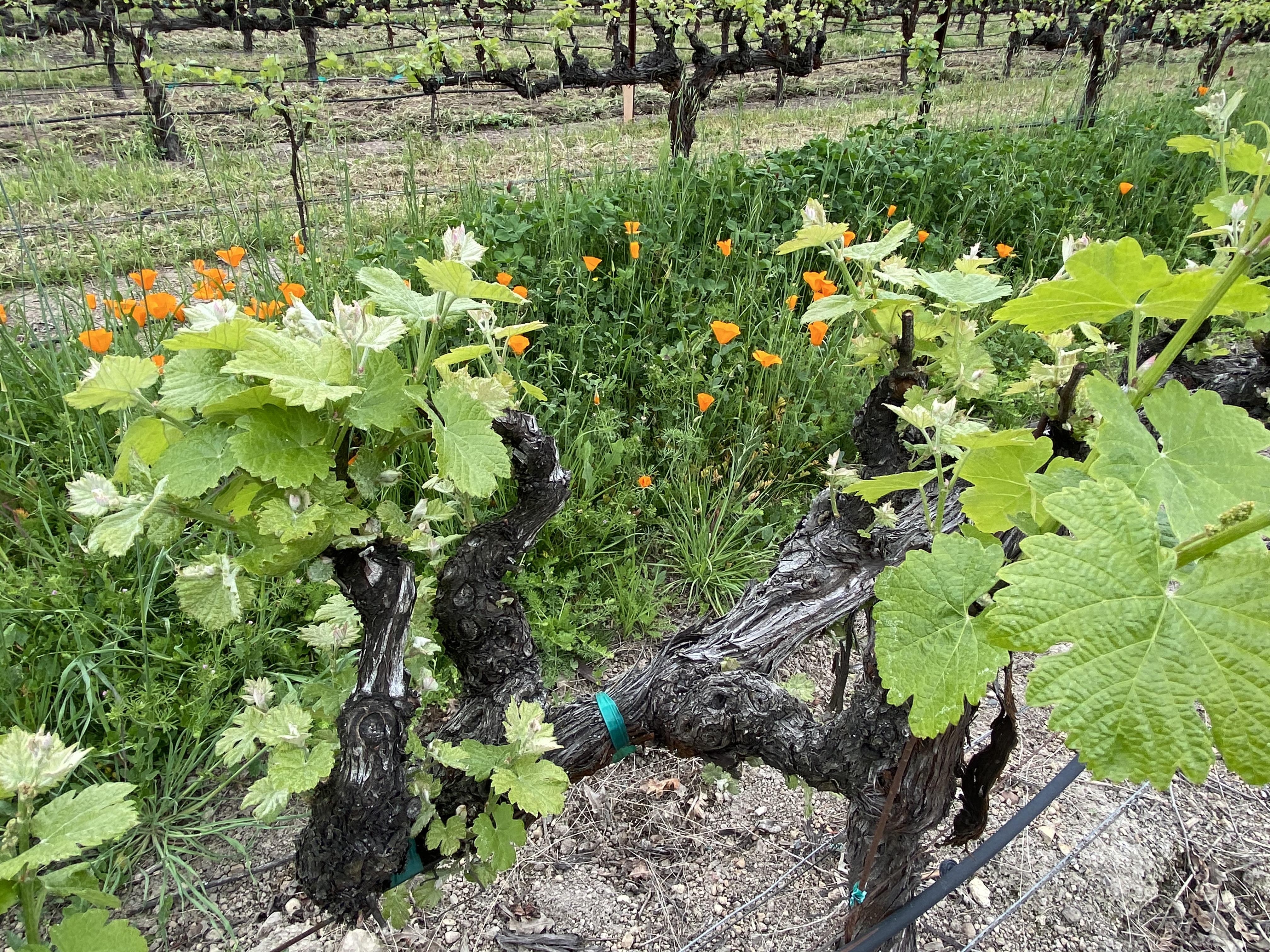 Webinar "Quantifying Economic and Environmental Impacts from Soil Health Practices": 9 – 11 a.m. American Farmland Trust knows wine grape growers need quantitative evidence that soil health practices provide economic and environmental benefits before adopting them. AFT has released California case studies, which demonstrate how growing practices such as cover cropping, nutrient management, mulching and compost applications can improve farm income, nutrient cycling and reduce greenhouse gas emissions on farms. Join us for AFT's webinar series that shares farmer profiles of wine grape growers and case studies of almond growers in California. Participants will learn how to use tools such as NRCS Level III T-Chart, USDA's Nutrient Tracking Tool, and USDA's COMET-Planner to help wine grape growers assess the environmental impacts of adopting these practices on their farms. Led by AFT, California Region, with presenters Paul Lum, CA Project Manager, American Farmland Trust; Dr. Charlotte Decock, Cal Poly SLO; and Mindy Selman, USDA. REGISTER HERE.
---

Webinar "A Progress Report on the First 3 Years of California's Healthy Soils Program": 2 – 3:30 p.m. Since 2017, California's Healthy Soils Program (HSP) has provided over $42 million to 640 projects on farms and ranches, including 67 demonstration projects, and farmer demand for the program has increased six-fold in just three years. As the first program of its kind in the country, HSP is already inspiring other state soil health programs across the country. This webinar will feature a presentation on a progress report from the California Climate & Agriculture Network (CalCAN) on the first three years of HSP, stories from a farmer and a technical assistance provider about their experiences with HSP's incentives and demonstration projects, and 30 minutes of Q&A and discussion. Speakers: Brian Shobe, Associate Policy Director, California Climate & Agriculture Network; Ellee Igoe, co-owner, farmer, and education coordinator at Solidarity Farm and co-coordinator of the Carbon Sink Demonstration Farm at Pauma Tribal Farms; Rex Dufour, Healthy Soils Program Technical Assistance Provider and California Regional Director, National Center for Appropriate Technology. Register with this link.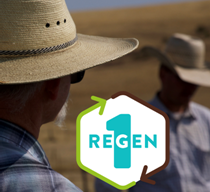 Webinar "Regenerative Agriculture is Local": 10 – 11 a.m. The Lexicon invites you to learn about REGEN1, an evidence-backed, place-based, market-driven model to rapidly accelerate the transition to more regenerative farming practices in Northern California. The program will help farmers and ranchers receive price premiums in reward for the benefits they generate and will include incentives to assist conventional growers in transitioning to regenerative practices. REGISTER HERE.
---

Webinar "Compost on the Farm and At Home": Noon to 1:30 p.m. This webinar will outline the climate, environmental and crop production benefits of compost as well as the issues facing the production and application of compost in California. Attendees will be provided with an extensive list of resources about compost, including sources across California. Lead agency: California Compost Coalition with host Assemblymember Cecelia Aguiar-Curry and presenters Cole Smith, Coordinator Composting Education Program, UCANR/UCD; Dan Port, Farmer/Rancher and RCD Board Member; Bill Camarillo, CEO, Agromin; and moderator Neil Edgar, Executive Director, California Compost Coalition. JOIN ON ZOOM HERE (Meeting ID: 924 9381 6308 and Passcode: 229772) or dial in by phone at 669-900-6833.
---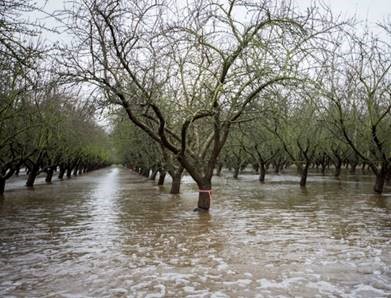 Discussion "Lunch-MAR"": 12:30 p.m. Hosted by the California Department of Water Resources. "Flood-MAR" is an integrated and voluntary resource management strategy that uses flood water resulting from, or in anticipation of, rainfall or snow melt for managed aquifer recharge (MAR) on agricultural lands and working landscapes, including but not limited to refuges, floodplains and flood bypasses. Flood-MAR can be implemented at multiple scales, from individual landowners diverting flood water with existing infrastructure, to using extensive detention/recharge areas and modernizing flood management infrastructure/operations. REGISTER HERE.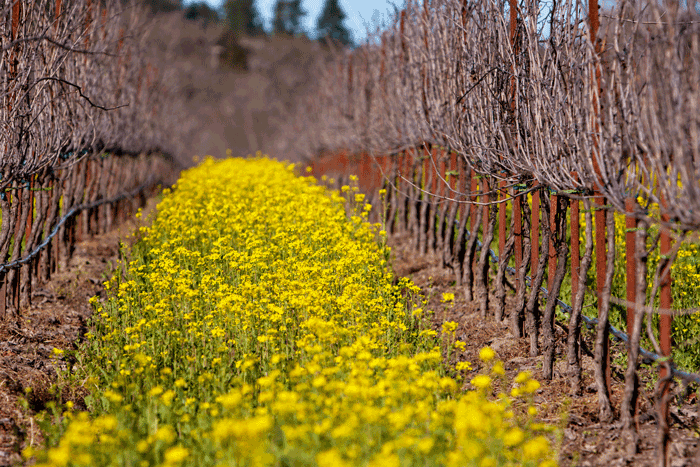 Webinar "California Winegrowers Cultivate Healthy Soils": 9 – 10 a.m. Hosted by the California Sustainable Winegrowing Alliance, Wine Institute and the California Association of Winegrape Growers. The California wine industry is a global leader in environmentally and socially responsible winegrowing, and healthy soil is quite literally the foundation of sustainable viticulture. Moderators: Allison Jordan, Executive Director, California Sustainable Winegrowing Alliance; and Honore Comfort, Vice President of International Marketing, Wine Institute. Panelists: Dr. Kerri Steenwerth, Research Soil Scientist, USDA Agriculture Research Service; Julien Gervreau, Vice President of Sustainability, Jackson Family Wines; Aaron Lange, Vineyard Manager, LangeTwins Family Winery & Vineyards; and Steve Matthiasson, Winemaker, Matthiasson Wines. View the e-invite and REGISTER HERE.
---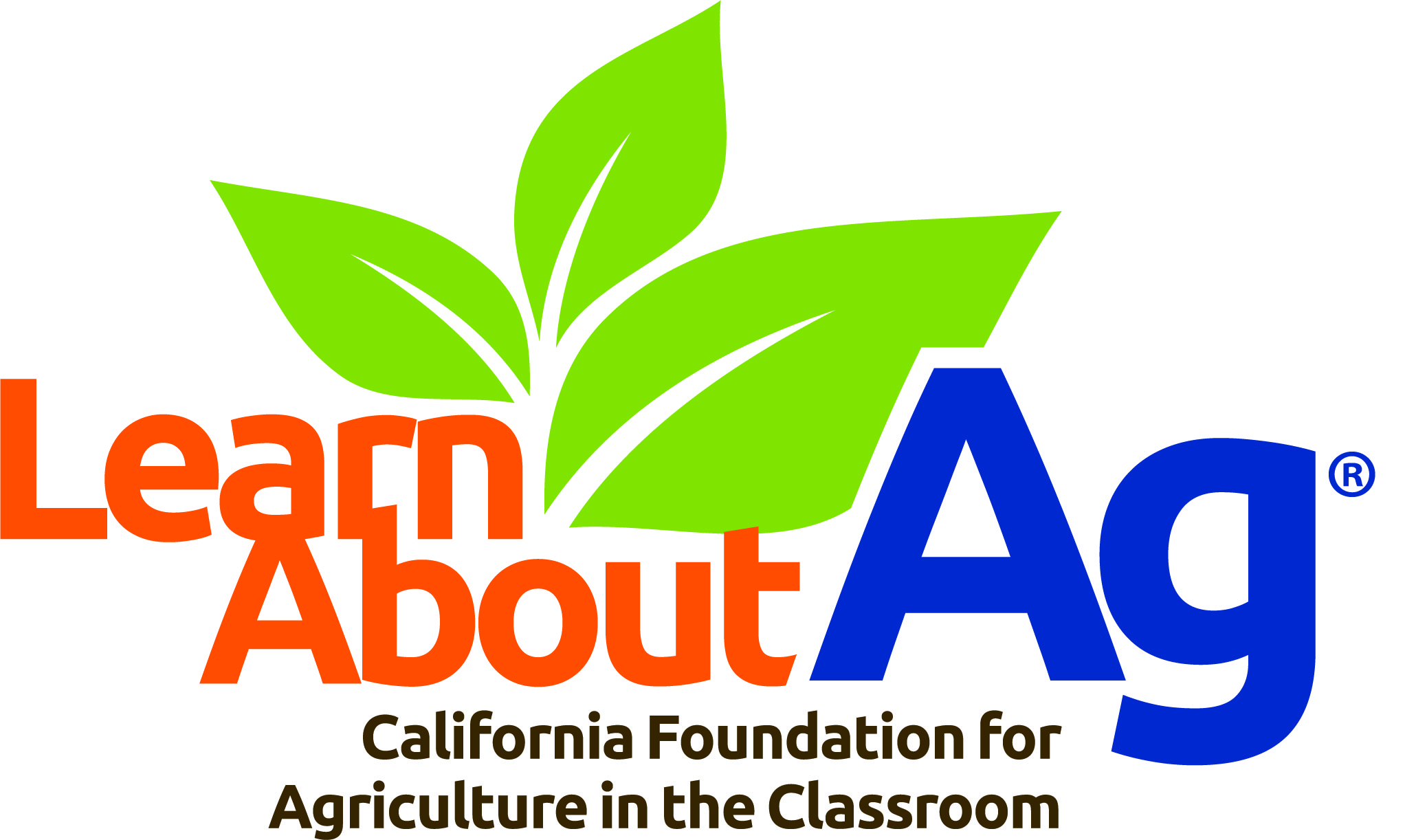 Facebook Live Event "Digging Into Soil! Ag in the Classroom for grades 3-8": 10 a.m. Follow Ag in the Classroom's Facebook page to join in and discover various types of soil, how to take care of it and the importance of soil health from the 15th edition of What's Growin' On? Student Newspaper: Agriculture and the Environment, page 5.
---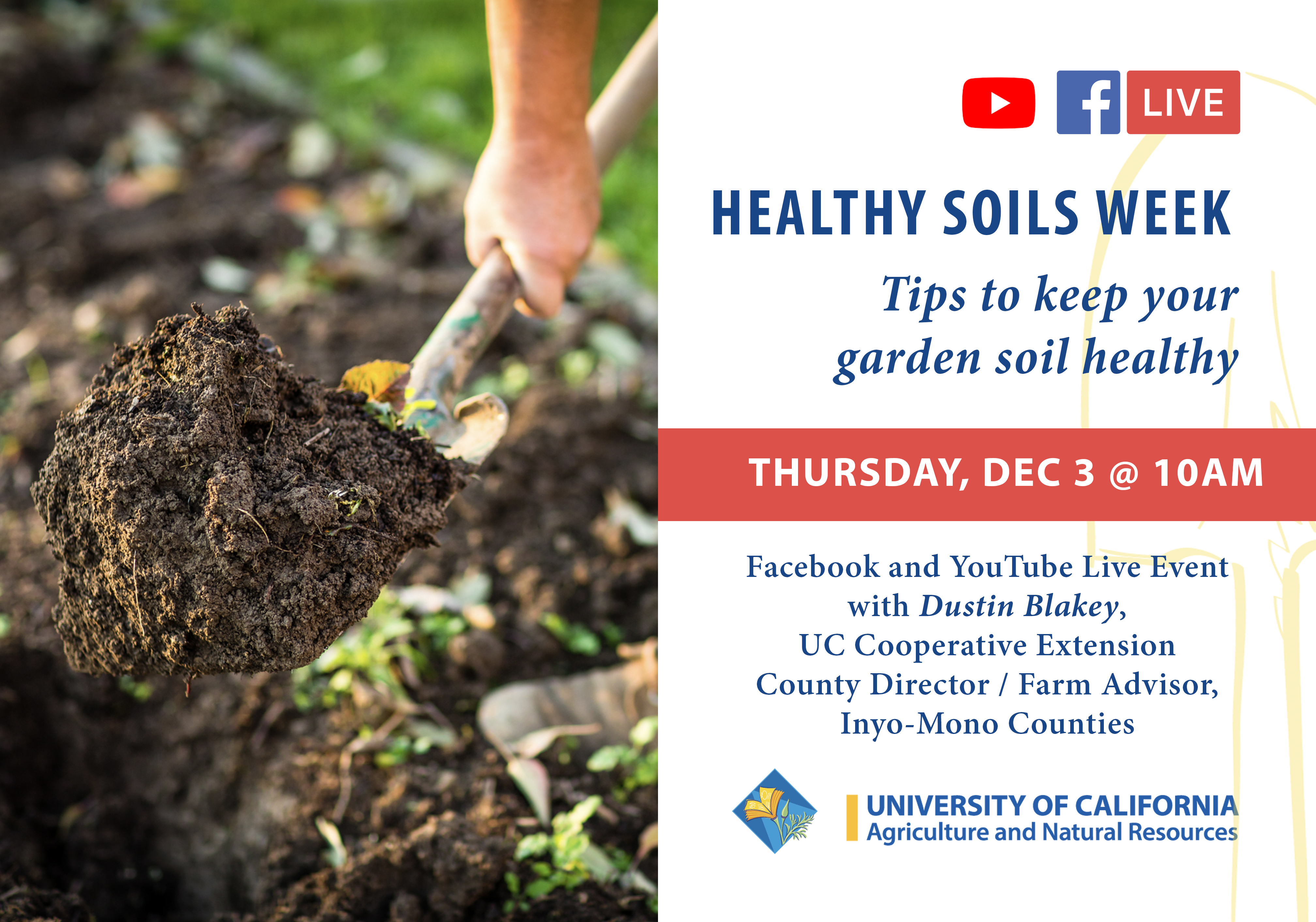 Livestream Event on Facebook and YouTube "Tips to Keep your Garden Soil Healthy": 10 a.m. Hosted by UC Master Gardener Program. University of California Agriculture and Natural Resources Farm Advisor Dustin Blakey will break down what gardeners can do to support healthy soil for years to come. No registration is necessary! Click here to join us for this LIVE event.
---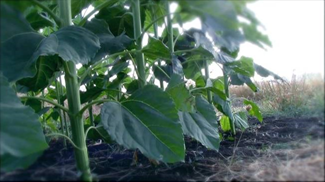 CalRecycle Video: "Why Compost?": Composting helps improve soil health and plant health—and it helps fight climate change! When we apply compost to soil, we capture carbon by supercharging the soil and pulling carbon out of the atmosphere. Soil has the ability to hold or "sequester" large amounts of greenhouse gases to keep them from contributing to climate change. Compost: Do it for the soil. Do it for the plants. Do it for the climate. Watch CalRecycle Video: "Why Compost?".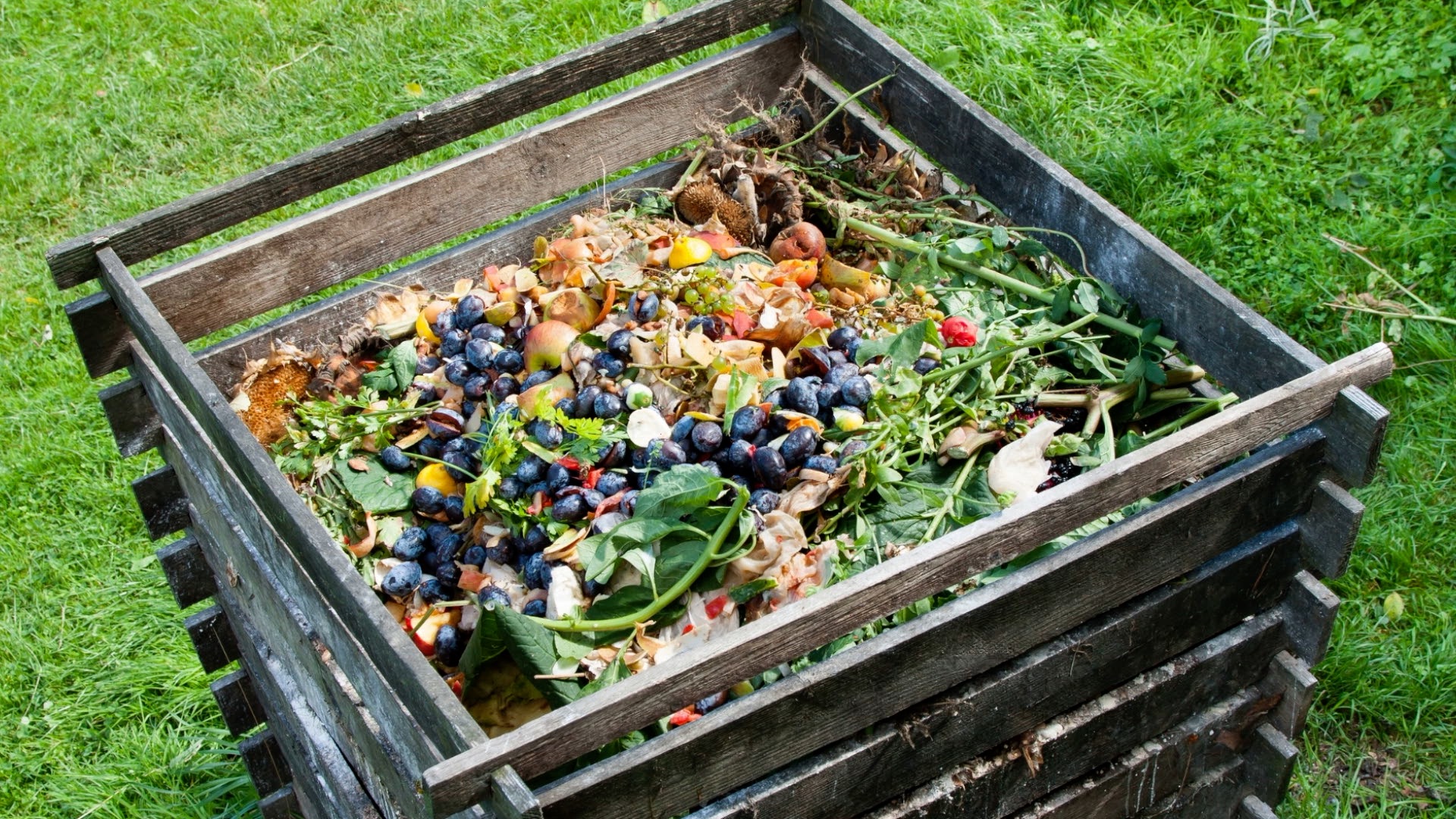 CalRecycle Video: "How to Compost": You can improve the health of your soil—and fight climate change—by composting at home. It's easy, it doesn't take a lot of time or space, and despite what you may be thinking, there is no odor! Click here for the basic steps to home composting.
---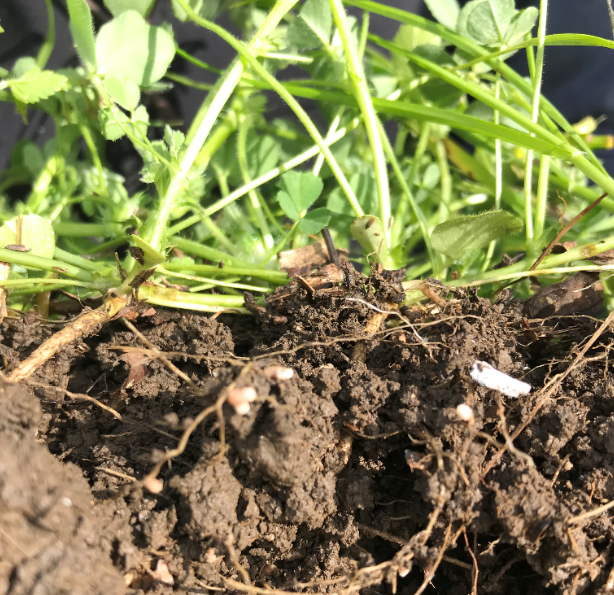 Live Event on Microsoft Teams: "Learn How to Find NRCS Soils Information": Hosted by California NRCS. Web Soil Survey (WSS) provides soil data and information produced by the National Cooperative Soil Survey. It is operated by the USDA Natural Resources Conservation Service (NRCS) and provides access to the largest natural resource information system in the world. NRCS has soil maps and data available online for more than 95 percent of the nation's counties. Moderated and presented by Sheryl Feit, California NRCS State Inventory Coordinator and Tony Rolfes, California State Soil Scientist. This is a presentation on WSS and other Soil Web Tools for gathering soils information and maps. CLICK HERE TO WATCH RECORDED EVENT.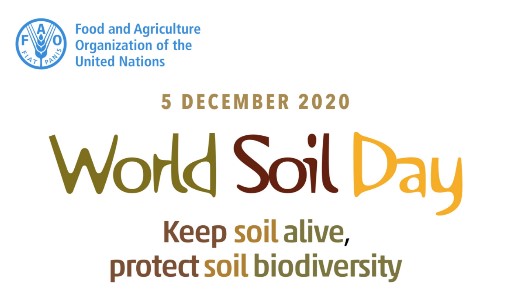 United Nations' World Soil Day: "Keep soil alive, protect soil biodiversity" – Whether on a farm or at home, what can you do to build soil health? Join the global movement here. Try the projects you've learned this week and send your photos and stories to joyce.mansfield@cdfa.ca.gov.
Why Healthy Soil?

Healthy soil is quite literally the foundation of sustainable food, water, air and biodiversity. Restoring and preserving healthy soil results in:
Improved plant health and yields
Increased water infiltration and retention
Sequestered carbon and reduced greenhouse gases (GHGs)
Reduced sediment erosion and dust
Improved water and air quality
Improved biological diversity and wildlife habitat
---
Healthy Soils Videos
Loading...
Loading...
Partners
CDFA's Healthy Soils Program, launched in 2017, stems from the California Healthy Soils Initiative, a collaboration of state agencies and departments promoting the development of healthy soils on California's farmlands and ranchlands.
---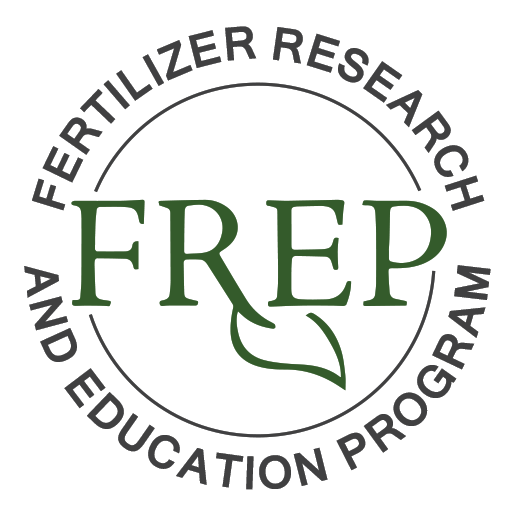 CDFA's Fertilizer Research and Education Program (FREP) funds and facilitates research to advance the environmentally safe and agronomically sound use and handling of fertilizing materials.
---

The USDA Natural Resources Conservation Service has provided leadership in a partnership effort to help America's private landowners and managers conserve their soil, water, air, plants, and other natural resources since 1935. For more information about NRCS in California, please visit www.ca.nrcs.usda.gov.
---
The California Foundation for Agriculture in the Classroom is a nonprofit organization dedicated to educating youth throughout California about the importance of agriculture in their daily lives.
---
The California Compost Coalition represents member organic material recyclers and compost operators with a unified statewide voice on many issues: product safety and standards, government regulations, environmental planning, trade, and marketing.
---
Founded in 1998 by innovative ranchers dedicated to conservation, the California Rangeland Trust is committed to serving the land, people, and wildlife by conserving our state's working rangelands. To date, the Rangeland Trust has permanently protected over 330,000 acres of open space, providing clean air and water, local food, healthy soils, and beautiful viewsheds that benefit all Californians.
---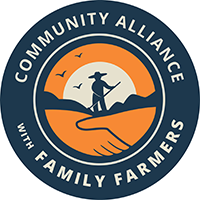 Community Alliance with Family Farmers sees farmers as knowledge-holders and environmental stewards that play a critical role in creating solutions to climate change. CAFF uplifts the efforts of individual growers, conducts on-farm research and seeks structural changes to advance healthier soils throughout the food and farming system.
---
CalRecycle's mission is to protect the environment and preserve natural resources by promoting and supporting the highest levels of waste reduction, recycling, and reuse.
---
The mission of Californians Against Waste is to conserve resources, prevent pollution and protect California's environment through the development, promotion, and implementation of waste reduction and recycling policies and programs.
---
CalCAN is a statewide coalition of farmers, ranchers, allied organizations, agricultural professionals and scientists that advances policy to realize the powerful climate solutions offered by sustainable and organic agriculture.
---

California Farm Bureau Federation is a nonprofit organization of farmers and ranchers consisting of county Farm Bureaus from nearly every county in California, established in 1919 to work for the betterment of family farmers and ranchers in California.
---
UC Agriculture and Natural Resources connects the power of UC research in agriculture, natural resources, nutrition and youth development with local communities to improve the lives of all Californians. For over 100 years, our advisors, specialists, faculty and staff have been committed to leading the way to science-based solutions and serving as a trusted resource to help address California's toughest challenges.
---
Carbon Cycle Institute advances the carbon cycle as the fundamental organizing concept underlying farm and land management to mitigate and adapt to climate change. The Carbon Farming Network builds the capacity of resource conservation districts and their partners to plan, implement, and adaptively manage whole farm approaches to sequestering carbon and building healthy soils.
---
CARCD is the non-profit hub and partner to the state's 96 Resource Conservation Districts. Together, we are dedicated to serving as a strong advocate and technical resource for farmers, ranchers, and foresters. RCDs engage with their communities to enact voluntary, locally-led conservation to meet today's most pressing challenges.
---
The California Association of Winegrape Growers promotes the winegrowing industry's long-term success by advancing the adoption of sound public policies, and fostering awareness and understanding of winegrape growers' contributions to the economy, environment and California communities.
---
Wine Institute is the public policy advocacy group of 1,000 California wineries and affiliated businesses that represents 80 percent of U.S. wine production and 95 percent of U.S. wine exports.
---
The California Sustainable Winegrowing Alliance is a nonprofit organization that promotes the benefits of sustainable winegrowing practices, enlists industry commitment, implements the educational California Sustainable Winegrowing Program, and administers Certified California Sustainable Winegrowing.
---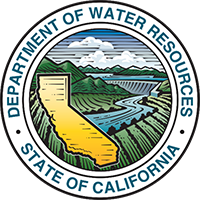 The Department of Water Resources manages California's water resources, systems, and infrastructure, including the State Water Project (SWP), in a responsible, sustainable way.
---
American Farmland Trust is the only national conservation organization dedicated to saving the land that sustains us by protecting farmland, promoting environmentally sound farming practices, and keeping farmers on the land.
---
University of California (UC) Master Gardener volunteers receive training in horticulture and pest management practices by UC ANR experts. UC Master Gardener volunteers dedicate time to empowering Californians to grow more food, pursue sustainability in the landscape and interact with green spaces statewide.
Infographic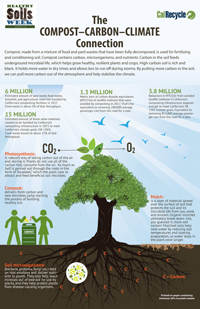 The COMPOST-CARBON-CLIMATE Connection
Enlarge or print this infographic explaining the connection between compost, carbon and the climate.