Healthy Soils Week
Celebrate Healthy Soils Week
December 5 – December 9, 2022
---
Follow us on social media: #HealthySoilsWeek2022.
Join the California Department of Food and Agriculture and our many partners in highlighting soil health! Dates will be added soon to see activities and events scheduled for each day. We will be updating and adding to the Healthy Soils Week calendar over the next few weeks, so bookmark this page and check back often.
Why Healthy Soils?

Healthy soil is quite literally the foundation of sustainable food, water, air and biodiversity. Restoring and preserving healthy soil results in:
Improved plant health and yields
Increased water infiltration and retention
Sequestered carbon and reduced greenhouse gases (GHGs)
Reduced sediment erosion and dust
Improved water and air quality
Improved biological diversity and wildlife habitat
Calendar of Events
Monday, 12/5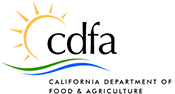 Secretary Karen Ross launches Healthy Soils Week 2022 with this video about the many benefits of improving the health and resilience of our soils.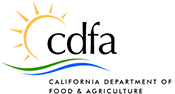 Monday, December 5 — 10:00 am.
Webinar with CDFA Secretary Karen Ross and members of the Belowground Biodiversity Advisory Committee (BBAC). The committee is made up of world-renowned scientists. To better understand how soil biodiversity may impact soil health, The committee is charged to prepare a report with their recommendations on biodiversity indicators as a proxy of soil health and ecosystem functions. This webinar will discuss the importance and impact of belowground biodiversity on soil health and presenters will also share some of the work they have completed.
Tuesday, 12/6


Tuesday, December 6 — 10:00 am.
Join the UC Master Gardener Program LIVE on Facebook as we celebrate Healthy Soils Week. Understanding the nature and composition of soil is the first step in our understanding of how to achieve sustainable, healthy soil in our gardens. Speaker: Mike Corby, UC Master Gardener Volunteer Contra Costa County.
No registration required.
Wednesday, 12/7

Wednesday, December 7 — 11 a.m.
NRCS Webinar: Web Soil Survey Presentation
Hosted by California NRCS, the Web Soil Survey (WSS) provides soil data and information produced by the National Cooperative Soil Survey. It is operated by the USDA Natural Resources Conservation Service (NRCS) and provides access to the largest natural resource information system in the world. NRCS has soil maps and data available online for more than 95 percent of the nation's counties. Moderated and presented by Phil Smith, California NRCS Area Resource Soil Scientist, and Tony Rolfes, California State Soil Scientist. This is a presentation on WSS and other Soil Web Tools for gathering soils information and maps.

Wednesday, December 7 — 10:00 am.
Speaker: Kit Veerkamp, UC Master Gardener Volunteer in El Dorado County.
No registration required.
Thursday, 12/8
Legislators and CDFA Staff to Tour Healthy Soils Demonstration sites.
Invitation only.
Friday, 12/9:

Friday, December 9 — 9:00 am - 3:00 pm.
Demonstrations with the University of California Cooperative Extension, California State University, Monterey Bay, and the resource conservation districts of Monterey and Santa Cruz counties, Central Coast Water Board. Morning and afternoon sessions will be available.

Friday, December 9 — 1:00 pm - 4:00 pm.
Field day to discuss cover cropping, hedgerows, and practices for improved orchard management. Benefits and challenges of cover cropping and hedgerows; implementing nematode-resistant root systems and improved irrigation systems; demonstrations of inoculating and broadcast planting of cover crop seed; demonstration of a small mower that is great for managing weeds in the strips of tree rows. We will also share resources for farmers to support the implementation of such practices.
Additional Healthy Soils Resources

NRCS Videos: a "Soil Tunnel," an in-field soil health assessment, and a rainfall simulation all bring home the importance of what goes on below the soil surface.
---

---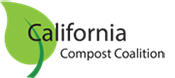 Almond Board of California (ABC) promotes cover crops
with a case study of one orchard in Stanislaus County, where cover crops have been planted for a decade. The study demonstrates return on investment, based on a calculator system developed by the American Farmland Trust.
---
Healthy Soils Videos
Loading...
Loading...
Infographics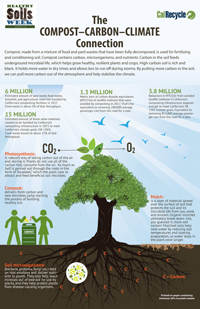 The COMPOST-CARBON-CLIMATE Connection
Enlarge or print this infographic explaining the connection between compost, carbon and the climate.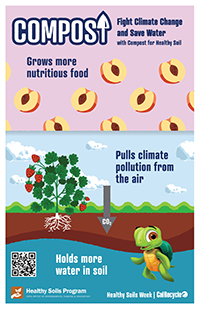 COMPOST for Healthy Soil
Enlarge or print this infographic explaining why compost for healthy soil.