Healthy Soils Week
Celebrate Healthy Soils Week
December 4 – December 8, 2023
---
Follow us on social media: #HealthySoilsWeek2023.
Join the California Department of Food and Agriculture and our many partners in highlighting soil health! Dates will be added soon to see activities and events scheduled for each day. We will be updating and adding to the Healthy Soils Week calendar over the next few weeks, so bookmark this page and check back often.
Why Healthy Soils?

Healthy soil is quite literally the foundation of sustainable food, water, air and biodiversity. Restoring and preserving healthy soil results in:
Improved plant health and yields
Increased water infiltration and retention
Sequestered carbon and reduced greenhouse gases (GHGs)
Reduced sediment erosion and dust
Improved water and air quality
Improved biological diversity and wildlife habitat
Calendar of Events
Saturday, 12/2
Tuesday, December 2 — 10:30 a.m. - 12:00 p.m.
INTRO TO COMPOSTING: Hot pile or worm bin
Hosted by the UC Master Gardeners of Sonoma County
Healdsburg Regional Library, 139 Piper Street, Healdsburg, CA 95448
Discover the basics of composting and worm composting, and find a system that's right for you.
Wednesday, 12/6
Wednesday, December 6 — 12 p.m.
Public Listening Session: Defining Regenerative Agriculture for State Policies and Programs
The California Department of Food and Agriculture, in collaboration with State Board of Food and Agriculture, will be hosting the first of five public listening sessions to receive comments that will help define "regenerative agriculture" for state policies and programs.
Friday, 12/8:

Friday, December 8
Sustainable Nutrient Management and Soil Health Field Day in Salinas
University of California Cooperative Extension (UCANR) is offering a Sustainable Nutrient Management and Soil Health Field Day in Salinas on Friday, December 8. They will cover water and nitrogen use efficiency, Ag Order 4.0 updates, remote irrigation monitoring, and soil carbon management with field sensors.
For more information, please contact Cole B. Smith at cbrsmith@ucanr.edu.
Friday, December 8 — 10:00 a.m. – 11:15 a.m.
Legislative Briefing: Hosted by the Senate Natural Resources Committee and the Assembly Committee on Agriculture
California State Capitol Building, Room 127 (First Floor)
Sacramento, CA 95814

Legislative staff are invited to learn about the connection between soil biodiversity, soil health, and the practices CDFA and its stakeholder partners are promoting through the Healthy Soils Program.

Please RSVP to Artemio Armenta by Thursday, December 7

-
Additional Healthy Soils Resources

NRCS Videos: a "Soil Tunnel," an in-field soil health assessment, and a rainfall simulation all bring home the importance of what goes on below the soil surface.
---

---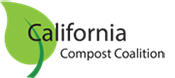 Almond Board of California (ABC) promotes cover crops
with a case study of one orchard in Stanislaus County, where cover crops have been planted for a decade. The study demonstrates return on investment, based on a calculator system developed by the American Farmland Trust.
---
Healthy Soils Videos
Loading...
Loading...
Infographics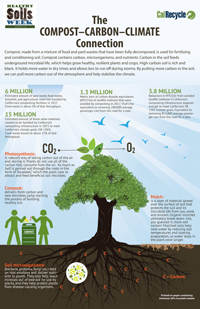 The COMPOST-CARBON-CLIMATE Connection
Enlarge or print this infographic explaining the connection between compost, carbon and the climate.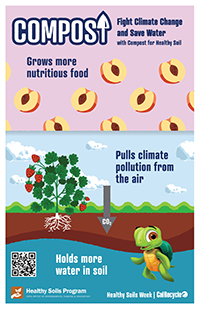 COMPOST for Healthy Soil
Enlarge or print this infographic explaining why compost for healthy soil.