IPC Programs
Projects & Resources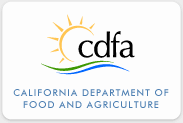 Vertebrates: California Department of Public Health
California Department of Public Health
Vector-Borne Disease Section and Veterinary Public Health Section
Location
Headquarters in Sacramento; 7 regional offices.
Directory
Responsibilities
Vector-Borne Disease Section: A service agency provides technical consultation and assistance to local vector control agencies to prevent and control such vector-borne diseases as hantavirus, plague, malaria, tickborne diseases, and arboviral encephalitis.

Veterinary Public Health Section: Assists local counties in the investigations and control/prevention of zoonotic diseases, such as rabies, brucellosis, and Q-fever.
Contact Them
- For advice on safety precautions to minimize exposure to wildlife-related diseases and handling of sick and dead animals.

- To report bites or exposure from suspected rabid animals (e.g., bats, dogs, skunks).

- To report any unusual occurrence of dead animals (e.g., as in a plague outbreak) or suspected diseased animals.

- Via the internet to download brochures on hantavirus, Lyme disease, plague, and others.