Hydrilla: Program Details
3294 Meadowview Road, Sacramento, CA 95832 • 916-654-0768 •
ipcinfo@cdfa.ca.gov

Pest Hotline: 1-800-491-1899
Hydrilla is a pernicious aquatic plant which infests natural and man-made aquatic ecosystems. The California Department of Food and Agriculture (CDFA) conducts eradication efforts in nine counties throughout California integrating various methods of control. The largest eradication effort is the infestation in Clear Lake which began in 1994. The Branch has successfully eradicated hydrilla from nine counties.
National Pollutant Discharge Elimination System Permits | Aquatic Weeds
New Invader Threatens California!

Learn about the South American Spongeplant
Note: the slideshows are only compatible with Internet Explorer browser.
Non-native Aquatic Weeds that Threaten California
A number of invasive aquatic weeds are either under eradication in California or could cause serious trouble if they get established here. This slideshow provides a brief introduction to their biology, threat and status.
Technical Review Panel for Clear Lake
In late 2009 the Hydrilla Program asked a panel of four outside experts to review the Clear Lake Hydrilla Eradication Project.
More Information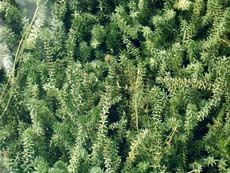 hydrilla Sub Menu
ipc programs
Projects/Resources
Related Links
Contact Info
Program Manager:
Dr. Patrick Akers
(916) 262-1102
Web Page Info:
Sara Richards
(916) 262-1173