Curly Top Virus: Introduction
Beet Curly Top Virus (BCTV) is a viral disease of sugar beets, tomatoes, melons, peppers, beans, cucumbers, squash, pumpkins, spinach, vine seed and other commercially important crops, but at times devastates backyard vegetable and flower gardens. The only known vector of BCTV is Circulifer tenellus (Baker), commonly known as the sugar beet leafhopper (BLH).
Control of BLH may take place at various locations throughout the San Joaquin Valley, Salinas Valley, Cuyama Valley, Antelope Valley of northern Los Angeles County, Riverside County and the Imperial Valley including portions of Stanislaus, San Joaquin, Merced, Fresno, Kings, Kern, San Luis Obispo, Monterey, San Benito, Santa Barbara, Los Angeles, Riverside and Imperial Counties.
The size of the control program is totally dependent on the location, size and distribution of the BLH population. In years with above normal rainfall, BLH populations can be large and widespread but reduced in numbers. In periods of drought (successive years of below normal rainfall), the Curly Top Virus Control Program (CTVCP) has observed a reduction in rangeland vegetation and a corresponding increase in the BLH populations which increase the need for treatments.
In a year with a low population, 80,000 acres or less, western Fresno, Kings, and Kern Counties may require treatment. In years with below normal rainfall, the treatment required may increase to more than 200,000 acres and may include acreage in several inter-coastal valleys, including the Cuyama and Salinas Valleys. Additionally, BLH tend to migrate north through the Sacramento Valley and re-inoculate the rangeland on the west side from Davis to Red Bluff.
Not all areas require treatment on an annual basis. The mode and probability of treatment varies within the potential treatment area. The CTVCP was instrumental in supporting research, which developed an antisera allowing use of Enzyme-Linked Immunosorbent Assay to determine the presence on a percentage basis, of BCTV. Thus the amount of virus found in a given area lends weight to treatment priorities.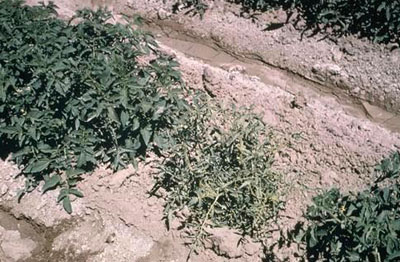 Tomato Stunted Curly Top Virus
ipc programs
Projects/Resources
Contact Info
Program Manager:

(916) 262-1102
Web Page Info:
Sara Richards
(916) 262-1173