IPC Programs
Projects & Resources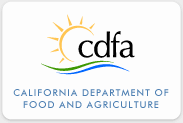 Vertebrates: USDA APHIS Wildlife Services
USDA APHIS Wildlife Services
Location
Headquarters in California
California State Office, Sacramento
North District
Sacramento District
Central District
San Luis District
South District
916-979-2675
530-336-5623
530-677-1792
209-579-2891
661-765-2511
619-561-3752
Directory
- United States Department of Agriculture Wildlife Services

- California Department of Food and Agriculture Animal Health Branch Wildlife Services Program
Responsibilities
Provide advice and information regarding wildlife damage management, provide services (e.g., predator trapping, nuisance wildlife removal) on a contract basis; assist with federal permit applications for bird control; conduct wildlife hazard surveys at airports; protect endangered species from wildlife depredations.
Contact Them
- For general advice and information on wildlife damage control.

- When a federal depredation permit is required for lethal bird control.

- For damage problems and removal of predators (coyotes, mountain lions) and nuisance wildlife (skunks, racoons, beaver, pigeons, waterfowl).