Healthy Soils Initiative
California is the nation's leading agricultural production state in terms of both value and crop diversity (https://www.cdfa.ca.gov/Statistics/). California's Healthy Soils Initiative is a collaboration of state agencies and departments, led by the California Department of Food and Agriculture (CDFA), to promote the development of healthy soils on California's farm and ranchlands. Innovative farm and ranch management practices contribute to building adequate soil organic matter that can increase carbon sequestration and reduce overall greenhouse gas emissions.

Read the California Healthy Soils Action Plan
Read the California Healthy Soils Initiative Fact Sheet
California Healthy Soils Initiative Fact Sheet in Spanish
To receive e-mail news updates on the Healthy Soils Initiative: subscribe here.
Soils are fundamental medium for crop growth and food production (http://www.nrcs.usda.gov/wps/portal/nrcs/main/national/soils/health/). The importance of soils has been memorialized by the United Nations Food and Agriculture Organization after they recognized 2015 as the Year of the Soil (http://www.fao.org/soils-2015/en/).
Health of agricultural soil relates to its ability to build and retain adequate soil organic matter via the activity of plants and soil organisms. Adequate soil organic matter ensures the soil's continued capacity to function as a vital living ecosystem with multiple benefits that sustains and produces food for plants, animals, and humans. These benefits include:
Improve plant health and yields – soil organic matter contains important nutrients that support plant growth, biodiversity and yields.
Increase water infiltration and retention – healthy soil reduces runoff and has the ability to hold up to 20 times its weight in water; it assists flood management.
Sequester and reduce greenhouse gases – carbon stored in soil has the potential to reduce overall greenhouse gas emissions from agriculture.
Reduce sediment erosion and dust – healthy soil resists erosion and improves dust control.
Improve water and air quality – practices to improve soil health can reduce emissions of criteria pollutants and affect the persistence and biodegradability of pesticides in soil and water.
Improve biological diversity and wildlife habitat – at least a quarter of the world's biodiversity lives in the soil; activities to improve soil health on farms and ranches can also promote plant and animal biodiversity and provide wildlife habitat benefits.
Actions for the Healthy Soils Initiative
State agencies, departments and boards met and agreed to a set of five primary actions for the Healthy Soils Initiative:
1. Protect and restore soil organic matter in California's soils.
2. Identify sustainable and integrated financing opportunities to facilitate healthy soils. CDFA will establish a Healthy Soils Program. The program will be implemented through the Environmental Farming Act Science Advisory Panel.
3. Provide for research, education and technical support to facilitate healthy soils.
4. Increase governmental efficiencies to enhance soil health on public and private lands.
5. Promote interagency coordination and collaboration to support soils and related state goals.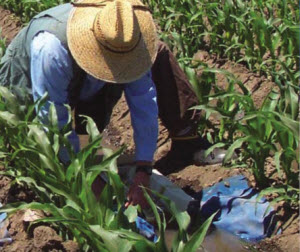 California's farmers and ranchers play a critical role by managing soils in a way that sequesters carbon and reduces greenhouse gases.