Porcine Epidemic Diarrhea Virus
Porcine Epidemic Diarrhea Virus (PEDV)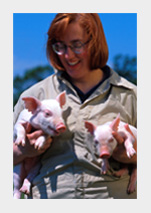 PED is a viral disease that is associated with outbreaks of diarrhea and vomiting in swine. PED is not a zoonotic disease, does not affect people, and is not a food safety concern. The disease is most severe in young pigs, but can affect pigs of any age. The disease can cause death and loss of production. Most older pigs recTechnician with two piglettsover from the disease within 7-10 days. There is no treatment for PED. The first case of PED in the United States was confirmed on May 16, 2013 and has spread to more than 20 states so far, including California. PED exists in many parts of the world. PED is not a listed disease of the World Organization for Animal Health (OIE); is not considered a Foreign Animal Disease in the United States; and there are currently some interstate movement restrictions pertaining to PED in U.S. swine. Please verify the requirements with the state of destination prior shipping pigs. Efforts to track, contain and prevent the spread of the disease are definitely helped by producers talking with their veterinarians and their farm neighbors about any change in PED status.
While many of the details surrounding the virus are still unfolding, what is known is that it transfers via swine feces and survives in manure for extended periods of time. That means anything that manure and the virus contacts can be a source of infection. Remember to maintain strict biosecurity protocols.
Swine Enteric Coronavirus Diseases (SECD) Program
Novel swine enteric coronavirus disease (SECD) is a disease in swine caused by emerging porcine coronaviruses, including porcine epidemic diarrhea virus (PEDV) and porcine delta coronavirus (PDCoV). Pigs develop varying degrees of diarrhea and inappetence depending upon age of the pig infected. Cases of porcine epidemic diarrhea (PED) were first diagnosed in the United States beginning in April 2013. The swine industry and associated professionals responded on many fronts initially engaging in laboratory diagnosis, analytic support, epidemiology expertise, and data management. SECD is characterized by an acute, rapidly spreading viral diarrhea of pigs; no other species are known to be affected and it is not a public health threat.
Effective January 4, 2016 the United States Department of Agriculture's (USDA) Animal and Plant Health Inspection Service (APHIS) issued an updated Federal Order related to swine enteric coronavirus diseases (SECD).
The revised Federal Order eliminates the herd plan requirement, as well as reimbursement to veterinarians for completing those plans. And, it also eliminates reimbursement for biosecurity actions, like truck washing.
In response to a large number of SECD cases that were causing significant hardship for the U.S. swine industry, APHIS issued a Federal Order in June 2014 making SECD a reportable disease. At the same time, USDA made funds available to cover specific costs associated with the disease. SECD remains a reportable disease, which means that producers, veterinarians, and diagnostic laboratories are required to report all cases of SECD to CDFA and USDA animal health officials. The reporting criteria are unchanged in the updated Federal Order. CDFA, USDA, herd veterinarians and producers need to collaborate to manage the diseases in a manner that supports business continuity for commercial pork producers and maintain a plentiful supply of pork for consumers.
SECD is a reportable disease under the Regulatory Conditions of the California "List of Reportable Conditions for Animals and Animal Products." In addition to this, the Federal Order requires the following:
Confirmed occurrences of porcine epidemic diarrhea virus (PEDV), porcine delta coronavirus (PDCoV), or other novel swine enteric coronaviruses must be reported. These reporting requirements are essential to assist CDFA and USDA in providing the basis for progressive mitigation assessment and evaluation for SECD, accomplished in partnership with the industry. An occurrence may be the initial detection of disease or a reoccurrence of previously detected disease.
Herds in the United States or its Territories that meet the case definition for either presumptive or confirmed positive SECD from the effective date of this Federal Order mustbe reported as soon as the herd is determined to be affected through positive laboratory test samples or other knowledge of herd infection. The case definition can be found on the APHIS website at
http://www.aphis.usda.gov/animal_health/animal_dis_spec/swine/downloads/secd_case_d efinition.

pdf

Anyone, including herd owners, producers, veterinarians, laboratory personnel, or others with knowledge of the disease, who identifies an occurrence of PEDV, PDCoV, or other novel swine enteric coronavirus is required to report presumptive or confirmed positive cases. If a sample is submitted to a National Animal Health Laboratory Network (NAHLN) laboratory for testing and is found positive, duplicate reporting by the herd owner, producers, veterinarians, and others with knowledge of the disease is not required. A list of NAHLN testing laboratories including the California Animal Health and Food Safety Laboratory is posted at
www.aphis.usda.gov/animal_health/nahln/downloads/all_nahln_lab_list.

pdf

Any occurrences of PEDV, PDCoV, or novel swine enteric coronavirus must be reported to CDFA or USDA.
The following specific reporting information must be submitted:

Premises Identification Number (PIN) or an alternative premise location identifier. If you do not have a PIN, visit
http://www.cdfa.ca.gov/AHFSS/Animal_Health/pdfs/NAIS/NAIS_CAform-v4W.

pdf


or call 866-325-5681
Date of sample collection;
Type of unit being sampled (sow, nursery, finisher) at the time of sample submission. This data is critical for monitoring the potential increase in SECD cases through the coming winter months.
PINs are required to accompany diagnostic samples submitted into the SECD program supporting efforts to reduce both the prevalence and adverse effects of emerging enteric coronaviruses.
PINs have clear benefits in tracking emerging diseases like PEDV when they are diagnosed on the farm. The SECD program has already seen significant improvement in the percentage of samples that are submitted with a valid PIN - growing from 10 percent in June to more than 75 percent today. This saves time and resources across the entire pork industry as USDA/CDFA continues to monitor for cases of SECD. The outbreak peaked between January and March 2015. In the last 5 months, the weekly average of new confirmed positive premises has dropped 90% when compared to the average number of weekly cases during the peak of the outbreak.
To get more information on PED strategies visit the Pork Checkoff Resources.
American Association of Swine Veterinarians (Disease Updates)
To learn more about the requirements and what you can do about SECD Program, visit:

CDFA, Division of Fairs and Expositions. To All Fair CEOs & Exhibit Staff: PEDV Update
Get individual fact sheets by clicking on their titles: