CRAIG McNAMARA,
PRESIDENT OF THE CALIFORNIA STATE BOARD OF FOOD AND AGRICULTURE
Term Expires: January 2019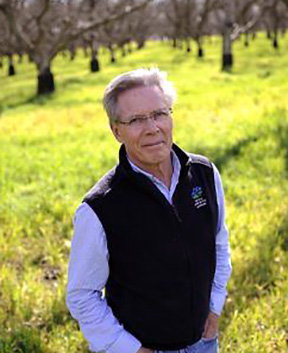 CRAIG McNAMARA was appointed President of the California State Board of Food and Agriculture on February 1, 2011 by Governor Edmund G. Brown Jr. President McNamara has served on the state board since 2002. McNamara is the president and owner of Sierra Orchards, a diversified farming operation that includes field, processing, and marketing operations, producing primarily organic walnuts. He also serves as the founder and president of the Center for Land-Based Learning. The goal of this innovative program is to assist high school students in becoming lifelong learners, overcoming barriers to change, and building greater social and human capital in their communities.
President McNamara is a graduate of the California Agricultural Leadership Program and a Senior Fellow of the American Leadership Forum. His professional activities include: American Farmland Trust, Roots of Change, past member of the Foundation Board of Trustees University of California Merced, University of California Davis Deanís Advisory Council and Agricultural Sustainability Institute advisory board member, and the Public Policy Institute of California.
He is the recipient of several awards including the Leopold Conservation Award, the California Governor's Environmental and Economic Leadership Award, the UC Davis Award of Distinction and Outstanding Alumnus Award, the Profile in Leadership Award, and named the 2014 Agriculturalist of the Year by the California State Fair.
He is passionate about sharing his knowledge in sustainable agriculture and leadership with the world around him. Together with his wife and three children he lives in Winters, California.