Top Climate-related Highlights for CDFA
Climate Change Adaptation Consortium for Specialty Crops
California's specialty crops account for more than half of the nation's fruits, vegetables, and nuts as well as nearly $7 billion dollars of exports worldwide. California's production of diverse specialty crops is threatened by potential climate-related events, including reduced water supplies, increased plant heat stress, decreased chill hours, shifts in pollinator lifecycles and increased influx of invasive species. Ensuring agricultural adaptation to climate change events will require a concerted effort and is an objective of California Agricultural Vision: Strategies for Sustainability.
Climate change and its impacts are frequently discussed in the agricultural community, but there is a need for a strategic evaluation of the potential impacts as well as a compilation of practical solutions. To address this need, in August of 2012, CDFA Secretary Karen Ross announced the establishment of a consortium of growers, educators, and technical experts in California to study and make recommendations on strategies for climate change adaptation.
Climate Change Adaptation Consortium for Specialty Crops
---
A Forum on Extreme Climate Risks and California's Future — Agriculture and the Food System
The California State Board of Food and Agriculture, in partnership with the California Department of Food and Agriculture, hosted a forum open to the public on Extreme Climate Risks and California's Future — Agriculture and the Food System on November 16, 2011 in Sacramento. The forum, a complementary event to the Governor's Conference of Extreme Climate Risks and California's Future, provided an overview of the potential impact of climate change on California's food and farming sector. View the Forum Agenda (PDF). View the presentations from this forum.
The Governor's Conference of Extreme Climate Risks and California's Future, held on December 15, 2011 at the California Academy of Sciences in Golden Gate Park, brought together leaders on environmental issues, business, public health and public safety to focus on the risks of unpredictable and extreme weather events caused by climate change.
The California State Board of Food and Agriculture advises the governor and the CDFA secretary on agricultural and consumer issues. The state board conducts forums that bring together local, state and federal government officials, agricultural representatives, and citizens to discuss current issues of concern to California agriculture.
---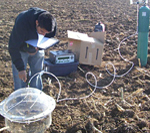 CDFA Fertilizer Research and Education Program (FREP) GHG Research
In collaboration with the Air Resource Board and the California Energy Commission, the CDFA Fertilizer Research and Education Program (FREP) is funding research to understand nitrous oxide (N2O) levels from nitrogen fertilizers added to different field crops.
N2O is a potent GHG and can trap heat up to 310 times more than carbon dioxide can. The FREP funded research is necessary since there is lack of baseline N2O emission data from nitrogen fertilizers applied to California's unique crop and soil systems. Initial study results indicate that N2O emissions are lower than originally thought, highly episodic, complex given the microbial nitrification and denitrification biological cycles involved, and dependent on environmental factors such as water content and temperature. Field trials are being completed by scientists at the Plant Science Department and Center of Irrigation Technology at California State University, Fresno. Research began in 2009 and is expected to be completed in 2012. The information will be used to address mitigation measures if it is determined that the N2O emissions from agricultural crops in California are a significant contributor to global warming.
---
CDFA Specialty Crop Block Grant Program (SCBGP) GHG Research
Several research projects related to GHG reductions were funded under the 2010 SCBGP. Environmental Concerns and Conservation was identified as one of the research funding areas in the 2010 Notice of Funding Availability.
More specifically, the research focus called for projects that address specialty crop agriculture's contribution to adaptation and/or mitigation of climate change. The results of the funded research projects are expected to have a direct impact on the current understanding of GHG from agriculture and potential offset strategies. For instance, a project titled, "Field Testing a Carbon Offset and GHGG Emissions Model for California Winegrape Growers to Drive Climate Protection and Innovation" is expected to provide knowledge and tools to help California winegrape growers reduce GHG emissions and increase carbon sequestration. Other projects funded relating to GHG research focus on the benefits of coupling conservation tillage with cover cropping to reduce GHG emissions and water management in tomato crops, among others. This research is critical in addressing knowledge gaps in GHG emissions for California specialty crops. More information on this and other funded projects can be found at www.cdfa.ca.gov/grants.
---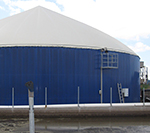 CDFA Dairy Digester Research
Methane (CH4) is a GHG and when compared to Carbon dioxide, has the ability to hold about 24 times more heat. Dairy systems generate significant amounts of methane from onsite waste lagoons. Dairy digesters (or biodigesters) is a technology that uses dairy waste to generate and capture methane gas which is in turn used for energy production. This process results in reduced greenhouse gas emissions from dairy systems.
However, the widespread adoption of these technologies in California has experiences numerous challenges. On May 24, 2011, CDFA, in partnership with the U.S. Environmental Protection Agency (U.S. EPA) and the U.S. Department of Agriculture (USDA) began a series of meetings to discuss the barriers to digester implementation and create an advancement strategy. CDFA, U.S. EPA, and USDA will work with other relevant state and local agencies, as well as industry stakeholders, to address the technical, regulatory and economic barriers for a robust dairy digester sector in California.
---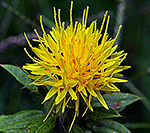 CDFA Biofuel Crop Research
Biofuels (fuels from plants) have been found to release less GHG compared to fossil fuels. CDFA, in partnership with scientists at UC Davis, and with funding from the California Energy Commission Public Interest Energy Research Program, have recently completed a four-year study to evaluate the economic, beneficial environmental performance of six bioenergy crops.
Crops under evaluation included oilseed crops camelina, canola and meadowfoam which can be formulated into biodiesel along with grasses; sweet sorghum, energy cane and sugar cane which can be transformed into ethanol. Field trials evaluated crop varieties, fertilization, irrigation and planting date trials. The project also examined the economic conditions under which bio-energy crops could be adopted in California by use of the Bioenergy Crop Adoption Model (BCAM), a multi-region, multi-input and multi-output model. Download the Draft Final Report: California Transportation Fuels Crops Development and Demonstration Project (PDF).
---
Climate Action Team (CAT)
CDFA Secretary Karen Ross is a member of the Climate Action Team (CAT). CDFA staff is engaged in monthly meetings on coordinating statewide efforts to implement global warming emission reductions.
CDFA scientists are actively involved in the team's most recent effort to create and update the CAT research catalog at the California Energy Commission which documents past, on-going, and planned climate change research studies supported by CDFA and other state agencies. The CAT is also responsible for reporting on the progress made toward meeting the statewide greenhouse gas (GHG) targets that were established in the executive order and further defined under the Global Warming Solutions Act of 2006 (Assembly Bill 32).
---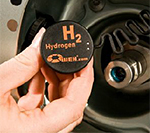 Fuel Quality and Standards
CDFA's Division of Measurement Standards is responsible for evaluating fuel quality and standards in California. CDFA is an active member of the Low Carbon Fuel Standard (LCFS) Advisory Panel. Under the LCFS, alternative fuels such as hydrogen, biodiesel and electricity will be evaluated for reducing carbon dioxide GHG emissions from motor vehicles.
CDFA has developed quality standards for hydrogen to be used in fuel cell vehicles. In collaboration with the California Energy Commission, CDFA is involved in developing quality and quantity testing procedures to facilitate the commercialization of hydrogen and higher concentration biodiesel blends. CDFA staff actively participate in the California Fuel Cell Partnership, California Electric Vehicle Collaborate, SAE International Hydrogen Fuel Standards Development Working Group, National Conference on Weights and Measures Hydrogen Working Group, ASTM International Gaseous Fuels Committee for Hydrogen, California Environmental Dialog, National Renewable Energy Laboratory (NREL) National Instituted for Standard Technology (NIST) and ATSM International Committee for Petroleum Products which includes biomass based fuels.