IPC Programs
Projects & Resources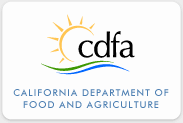 Vertebrates: California Department of Pesticide Regulation
California Department of Pesticide Regulation
Location
Headquarters in Sacramento; regional offices in Anaheim, Fresno, and West Sacramento
Directory
California Department of Pesticide Regulation
Responsibilities
Provide advice and information regarding wildlife damage management, provide services (e.g., predator trapping, nuisance wildlife removal) on a contract basis; assist with federal permit applications for bird control; conduct wildlife hazard surveys at airports; protect endangered species from wildlife depredations.
Contact Them
- For general advice and information on wildlife damage control.

- When a federal depredation permit is required for lethal bird control.

- For damage problems and removal of predators (coyotes, mountain lions) and nuisance wildlife (skunks, racoons, beaver, pigeons, waterfowl).