More Resources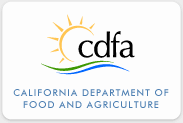 EMAIL MIGRATION
Migration FAQs
CDFA Outlook Quick Reference Guide
Guide on the Changes During and After Migration
QUESTIONS?
CALL the SERVICEDESK at - 651-HELP(4357) - or -

eMAIL the SERVICEDESK at - email us at ServiceDesk@cdfa.ca.gov
OUTLOOK TRAINING STRATEGY
Training will be presented in several platforms. There will be classroom style training with hands-on, links to Microsoft Outlook 2003 tutorials, reference sources and Videos.

Training Schedules - Training dates will coincide with the schedule migrations for the divisions. For example, divisions that will be migrated first will receive the training first.
PREPARING FOR YOUR MIGRATION
Reduce your Mail box size and go through your network files, your "Group Shares" and your Desktop to remove the files that you no longer need, and personal items. Also, please remove all music, pictures and videos that are not "work relate". You can save these files to a CD or a flash drive.
OUTLOOK TRAINING RESOURCES

CDFA Online
Videos Tutorials

Microsoft Online
Outlook 2003 Tutorials
More About Microsoft Outlook...
Microsoft Outlook 2003 is a personal information management system from Microsoft, and is part of the Microsoft Office suite.

Outlook is mainly used as an application to create, receive, and store e-mails; however, it also includes a Calendar to set and track appointments, a Contact Manager feature, a Task Manager, and Web Access (OWA).

Outlook can be used as a stand-alone application, but can also operate in conjunction with other Microsoft applications such as Exchange Server and Microsoft Office SharePoint Server to provide enhanced functions for multiple users in an organization.