Judith Redmond
Judith Redmond — EFA SAP
---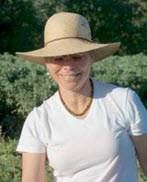 Judith Redmond is one of six owners of Full Belly Farm, a certified organic 350-acre farm in northern California growing fruits, nuts, vegetables, flowers and herbs, in addition to pastured chickens and sheep. Full Belly, first certified organic in 1985, offers training for interns, year-round children's educational programming and many events for the public, such as the Hoes Down Harvest Festival, an on-farm benefit for sustainable agriculture. The farm also serves as an event venue and offers full event management, catering and floral services.
Full Belly Farm was awarded the Leopold Conservation Award in 2014 in recognition of its significant efforts to maintain biodiversity on the farm, produce solar energy, reduce excess packaging and support local community development. Judith serves as a Director and Advisor to several community organizations.
Judith grew up in California and earned a Master's Degree from the University of California, Davis, with a specialty in biological control of plant pathogens.