Jocelyn Bridson — EFA SAP
---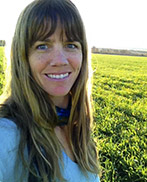 Jocelyn Bridson is the Director of Environmental Science & Resources at Rio Farms, a family-owned vegetable farming company based in King City, with additional growing regions in Oxnard, CA and Yuma, AZ. Through the implementation of best management practices, field research, and scientific data analysis, she is helping craft the company's sustainable agriculture program to meet internal goals, environmental regulations, and customer demands on over 6000 acres.
Prior to working in agriculture, Jocelyn had ten years of professional experience working in water quality, native habitat restoration and environmental education positions with reputable agencies such as the USGS, US Forest Service, Wisconsin's Department of Natural Resources and non-profits Save The Bay and the Natural Resources Defense Council.
Jocelyn has a Master's degree in Environmental Science & Management with a focus on Water Resource Management from U.C. Santa Barbara's Bren School, and holds a Bachelor of Science degree in Conservation Biology and Certificate in Environmental Studies from the University of Wisconsin Madison.