Jeff Dlott
Dr. Jeff Dlott — EFA SAP
---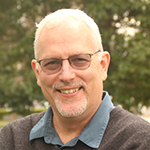 Dr. Dlott received his Ph.D. from UC Berkeley in the Department of Environmental Science, Policy and Management in 1993.
Dr. Dlott is president of SureHarvest, a California company providing sustainability software tools and professional services to growers, wineries, trade associations, and food companies. Dr. Dlott founded SureHarvest in 1999 with a vision for achieving a sustainable agrifood system by measuring and then rewarding growers for producing public benefits like cleaner water and air, job opportunities, and vibrant communities, in addition to food. Jeff assembled a group of tech-savvy investors and dedicated management team to design the knowledge and technology systems needed to create a "sustainability currency" for the agrifood marketplace.
Dr. Dlott has almost 20 years of experience in pest management research and the development of sustainability programs for over 25 different commodities, most notably, the California Sustainable Winegrowing Program. He is currently leading an initiative to create the Stewardship Index for Specialty Crops, a system for measuring sustainability performance throughout the specialty crops supply chain. Jeff is also participating in a multi-stakeholder effort to design a Sustainability Index for Walmart to measure the impact of the production processes of Walmart's 60,000+ suppliers.