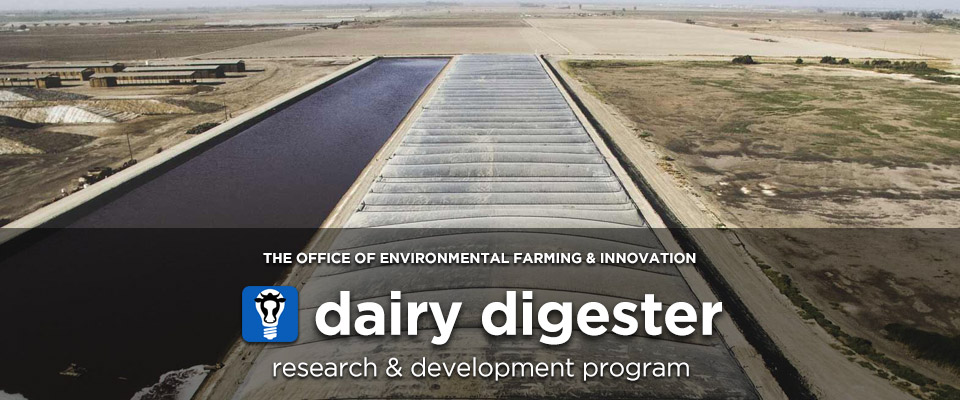 DDRDP Demonstration Projects
---
The DDRDP Demonstration Projects will award competitive grant(s) to California dairy operations and digester developers for the implementation of dairy digester projects that demonstrate innovative technologies to achieve long-term methane emission reductions on California dairies and minimize or mitigate adverse environmental impacts.
2019 DDRDP Demonstration Projects Application

CDFA is now accepting applications for the 2019 DDRDP Demonstration Projects. Applications are due by 5:00 p.m. PDT on April 3. Late submissions will not be accepted.
CDFA Application Assistance

Agenda
Presentation

To assist in the application process, CDFA is providing workshops at the following times and locations.
January 23, 2019 (3:00 p.m. – 5:00 p.m.) – Tulare
Edison Bldg. Energy Education Center,
4175 South Laspina Street, Tulare, CA

Webinar Link: Click here to register


January 24, 2019 (3:00 p.m, – 5:00 p.m.) – Modesto
Stanislaus Co. Ag Center, Room ABC,
3800 Cornucopia Way, Modesto, CA

Webinar Link: Click here to register
Community Outreach

CDFA is partnering with California State University-Sacramento Consensus and Collaboration Program (CCP) to serve as a resource for potential DDRDP applicants to support community outreach efforts. For more information please click here.
Program Timeline
Item
Timeframe
Invitation to submit Grant Application
December 28, 2018
Grant Applications Due
April 3, 2019
Review Process
May – August 2019*
Announce and Award Funding
September 2019*
* Subject to change.
Email Subscriptions
Program Status
OPEN


The DDRDP Demonstration Projects is currently accepting applications