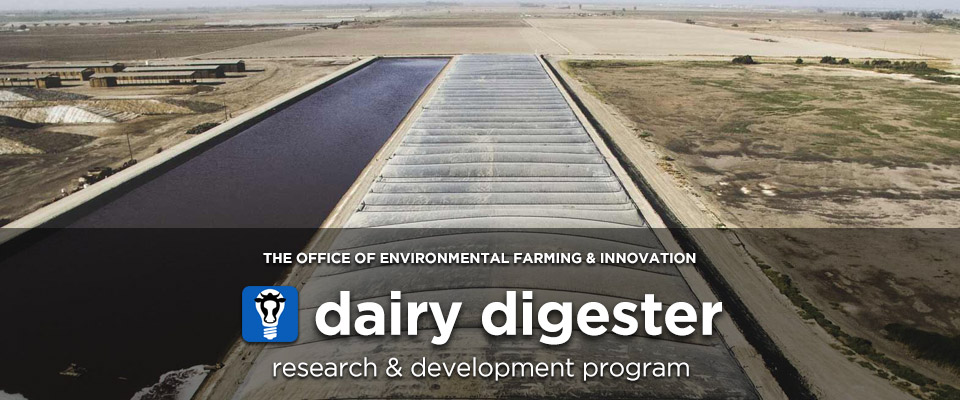 Dairy Digester Research & Development Program
Dairy Digester Research & Development Program
---
CDFA's Dairy Digester Research and Development Program (DDRDP) provides financial assistance for the installation of dairy digesters in California, which will result in reduced greenhouse gas emissions.
Draft Solicitation Documents for Public Comment
The Dairy Digester Research and Development Program accepted comments from the public and stakeholders on its draft 2023 Request for Grant Applications (RGA) between May 12 and May 23, 2023. The draft RGA establishes parameters by which competitive grant applications for the DDRDP must be submitted and evaluated. Main changes are indicated with highlight in the documents.
Public Comments Received
Draft Request for Grant Applications
Draft Supporting Documents
Funding: CDFA has received $48 million for Livestock Methane Reduction in the Budget Act of 2022 (SB 154, Chapter 43). For updates on new solicitations, please join our mailing list by clicking "Sign up for email notifications" under "Email Subscriptions" on the right of this page.
Tentative Program Timeline for 2023 DDRDP
| Item | Estimated Time Frame* |
| --- | --- |
| Application Period Opens | June 2023 |
| Review Process | August - November 2023 |
| Award Announcement | November - December 2023 |
| Grant Term Begins | March 2024 |
(*Subject to change)
Dairy Digester Video
Loading...
Loading...