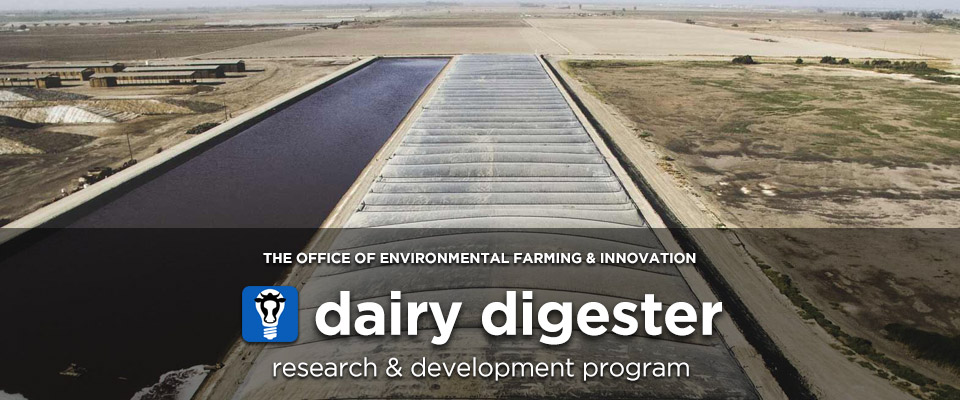 Dairy Digester Research & Development Program
---
The Dairy Digester Research and Development Program (DDRDP) is accepting public comments.

The following documents are open for public comment:
Comments are due to cdfa.oefi@cdfa.ca.gov by November 5, 5:00 p.m. PST.
The GHG quantification methodology and DDRDP Benefits Calculator tool for future rounds of DDRDP are currently under development. The revised tool will be made available for public comment. Please visit the CCI Quantification, Benefits, and Reporting Materials webpage for information.

CDFA will conduct two listening sessions and a webinar in October to answer questions related to the program and to provide information on how to comment on the draft RGA. Listening sessions are scheduled for:
Tulare – October 23, 2018
Time: 9:00 a.m. – 10:30 a.m.
Agricultural Commissioner/Sealer Auditorium
4437 S. Laspina Street, Ste A
Tulare, CA
Modesto – October 24, 2018
Time: 9:00 a.m. – 10:30 a.m.
Stanislaus County Agricultural Commissioner's Office
3800 Cornucopia Way, HI Room
Modesto, CA
Webinar – October 26, 2018
Time: 9:00 a.m. – 10:30 a.m. PDT
Location: Webinar
To register for the webinar:
https://attendee.gotowebinar.com/register/8657488980176467969
2019 DDRDP Listening Session Agenda
2019 DDRDP Listening Session Presentation
*2019 DDRDP Timeline
2019 DDRDP Public Comment Period
October 2018
Request for Grant Applications Released
December 2018
Application Workshops
January 2019
Grant Applications Due
February 2019
Review Process
March – July 2019
Announce and Award Funding
August 2019
* Subject to change.
What is the dairy digester research and development program?
CDFA's Dairy Digester Research and Development Program (DDRDP) provides financial assistance for the installation of dairy digesters in California, which will result in reduced greenhouse gas emissions.
What is a dairy digester?
Dairy digesters are a renewable technology that uses livestock manure to produce methane, which is a renewable source of electrical energy generation and transportation fuel. The technology has many environmental and social benefits. More information on dairy digesters can be found on the CalEPA Dairy Digesters webpage and the USEPA AgSTAR Anaerobic Digestion webpage.
How is DDRDP funded?
CDFA receives funding from California Climate Investments for methane emissions reductions from dairy and livestock operations.
What have been the benefits?
Current DDRDP projects are expected to reduce greenhouse gas emissions by an estimated 12.9 million metric tons of CO2e.
Are you currently accepting applications?
No. The application period closed on February 23, 2018. 74 applications were received for a total funding request of $143,079,566.
Who can I contact for more information?
If you have questions about CDFA's dairy digester and dairy methane reduction programs, please e-mail cdfa.oefi@cdfa.ca.gov.