1220 N Street, Sacramento, CA 95814
1-833-CALGROW (1-833-225-4769)
calcannabis@cdfa.ca.gov
Julia Glasse
This is California Cannabis
---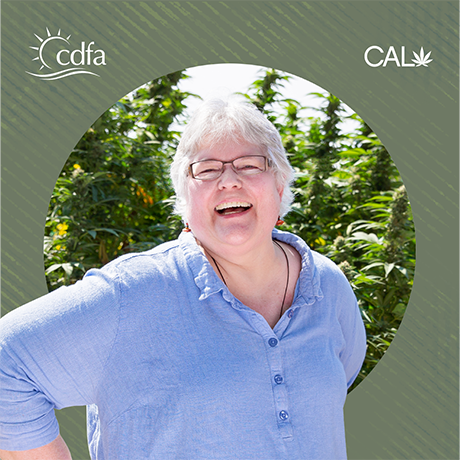 Julia Glasse
Birchville Botanicals
Nevada City, Nevada County
About the Farm
Julia Glasse is the owner of Birchville Botanicals, a small outdoor cannabis farm in Nevada County. Glasse and her husband, Brad Peceimer, were growing cannabis for about 15 years before receiving their commercial license and now they are working with partners Scott Wellman and Moriah Fitzpatrick to manage the farm.
Glasse and her husband were motivated to work in the cannabis industry because of their mutual belief in the medicinal benefits of cannabis.
"My husband's previous partner died of cancer and both of our fathers died of cancer. For all of them, it was important they had access to cannabis to lessen the pain and improve their quality of life while they were sick," Glasse shares. "Cannabis has these tremendous healing properties and can be such an important form of medicine."
Commitment to the Legal Market
"We were 25th in the county to get licensed, so we were really excited to be on the frontier as cannabis was legalized," Glasse says. "We look forward to seeing how the industry will grow and thrive over the next 10 years, and we are delighted to be a part of it."
Glasse says getting a license for their farm was, at times, difficult, and required a significant investment, especially for a small farm. Many of the costs were unexpected during the licensing process.
"We made it through, and we are proud of that," she says. "We were not the most organized or the most prepared, but that's how we roll. We make it work."
Throughout the licensing process, Glasse has been grateful to have the support of other local cannabis farmers and the Nevada County Cannabis Alliance. "This community made all of the difference for us, and we look forward to supporting others who are making their way through the process," Glasse says.
Proud to Be a Licensed Grower
Glasse also knows that maintaining a newly legal business can be a bit of a culture shock for the state's cannabis farmers. "I am a bookkeeper and I have cannabis clients who don't want to tell you what's going on because everything had previously been off the books. Now you have to develop this whole skill set you had spent years or decades suppressing for the sake of anonymity," she says.
For Glasse, removing the stigma of cannabis was a significant reason to get licensed. "I never told my friends or family from back East that I was growing cannabis, and now I can tell them I'm a licensed cultivator and talk about my work with people in the community," she says. "I'm very proud to be a licensed cultivator!"
She knows some people in Nevada County are wary of commercial cannabis farming but hopes this will change. "I was really excited to be the first cultivator in my county to pay our local tax," Glasse says. "I am proud to pay taxes and contribute to the greater community."
---